Ho Chi Minh City has approved a project to build 850 meter long An Suong tunnel among efforts to reduce traffic jam in the northwestern gateway to the city, director of the city Department of Transport Bui Xuan Cuong has said.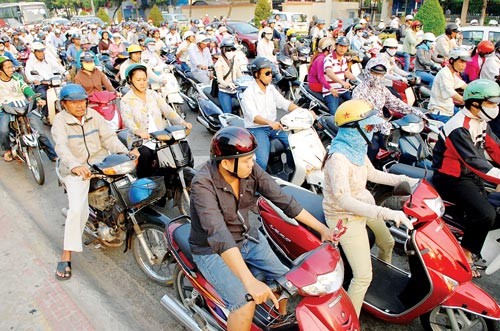 Traffic jam regularly occurs in Cong Hoa street, Tan Binh district, HCMC during peak hours (Photo: SGGP)
The project with the total capital of VND514 billion (US$23 million) is expected to solve congestion in An Suong Intersection and improve traffic in National Highway 1A, Highway 22 and Truong Chinh Street.
The twin tunnels from Truong Chinh street to Highway 22 is scheduled to be built by 2018 with four lanes.
The northwestern gateway plays an important role in connecting HCMC to neighboring provinces Long An, Tay Ninh and Binh Duong and Cambodia. It is the main route for suburban citizens from Cu Chi and Hoc Mon districts to reach the center areas of the city. However this area has regularly been congested with a huge volume of vehicles everyday.
Under planning, the first phase of the second metro project Ben Thanh-Tham Luong will come into operation by 2019 to ease traffic pressure in this area.
At present, many ornamental bird and plant stores adjacent to Tan Son Nhat International Airport have been removed to clear Truong Chinh Street. The street is the sole route linking the center areas up to Tay Bac (Northwest) satellite urban area as well as Tay Ninh, Long An and Binh Duong provinces.

In 2013, two flyovers were built at Lang Cha Ca and Hoang Hoa Tham-Cong Hoa intersections, which initially reduced traffic jam in Truong Chinh Street. However, the issue has then recurred.
According to the HCMC development plan by 2030 with vision till 2050, the city will develop towards four directions. Of these the northwest will be auxiliary. Because plans have almost been worked out for eastern and southern directions, HCMC authorities have paid attention to planning and building of the satellite urban area.

The Tay Bac satellite urban area locates 30 kilometers from the center of HCMC stretching over 9,000 hectares with a capacity to accommodate 320,000 citizens in Cu Chi and Hoc Mon districts.
However their development has been difficult because of limitations in traffic infrastructure. It takes up to two hours to travel from the city's center to the satellite urban area discouraging investors.