Because some local authorities are neglected in monitoring bird flu and many residents buy live poultry, People's Committee in Ho Chi Minh City has sent its document asking to take heeds to the disease and curb the re-occurrence.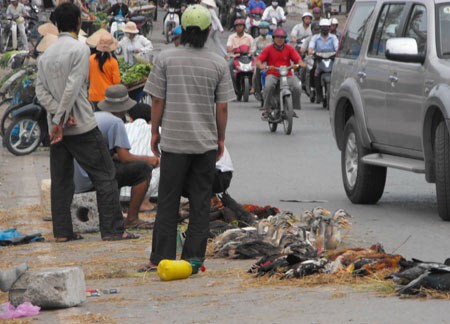 people sell poultry in streets iIllegally (Photo: SGGP)
As per the document, the city administration ordered inter-department inspectors to adopt bird flu prevention measures which were carried out last time, especially banning selling live water fowls everywhere.
People's committees in districts which have places for selling live poultry illegally must send its men to these areas to stop people from selling the animal.

The Department of Agriculture and Rural Development should work with related agencies to tighten control of illegal poultry sales in the city and provide consultation to People's Committee of arising mattes.

As per a report the Animal Health Department, until January 17, the city has 103 areas and markets where people sell poultry illegally which are located in 14 districts, causing risks of outbreaks of bird flu.