Nguyen Huu Tin, Deputy Chairman of the People's Committee of Ho Chi Minh City on Monday met with district authorities and relevant departments to discuss measures to cope with traffic congestion and road accidents in the city.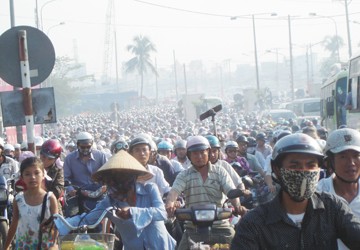 Traffic congestion on Binh Trieu Bridge in HCMC (Photo: Phap Luat)
According to the Department of Transport, construction of several road and bridge projects is being speeded up to open for traffic by early next year. Special focus is on Hanoi Highway, Tan Son Nhat-Binh Loi outer belt road, Road 10, Rach Chiec Bridge and Phu Long Bridge.
The city will concentrate on constructing Belt Road No. 2 from Phu My Bridge to Rach Chiec 2 Bridge, Road 25B, Highways 13 and 50 and also build flyovers in areas prone to traffic congestion.
Next year, the city will clear 28 spots that are regularly faced with   traffic jams and accidents and also install road dividers along 29 roads and equip CCTV cameras along the busiest routes.
Deputy Chairman Tin instructed relevant departments to complete their tasks in 2012, the year of national traffic safety. The Department of Transport is being asked to finish incomplete works, build roads linking to Belt Road No.2 and advise vehicles to ply on this route instead of radial roads.
The department has been ordered to report construction progress of eight parking lots and build more underground parking.