Investment Development for Underground Space Corp (IUS), a domestic joint stock company, broke ground on a parking garage under Le Van Tam Park in District 1, Ho Chi Minh City.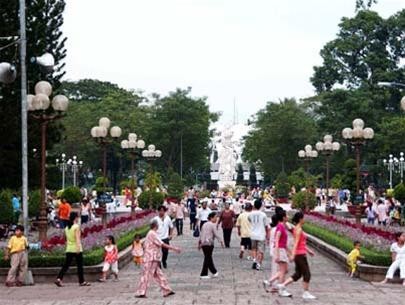 Le Van Tam Park. IUS breaks ground on a parking lot under the park on August 8
The US$100 million excavation project will make room for the construction of the city's first multi-story underground parking lot with an area of over 103 hectares underneath Le Van Tam Park, facing main streets Hai Ba Trung, Dien Bien Phu and Vo Thi Sau in District 1, according to the company's chairman Le Tuan.
The underground car park will have two separate sections. One section will include five underground basements for parking and infrastructure, and the other will have three other underground basements to house commercial and service facilities. The parking lot is designed to hold 2,024 motorbikes, 1,250 cars and 28 buses and trucks.
IUS hired a Singaporean consulting company to move and preserve trees and Bauer of Germany to build the foundation of the parking lot.
According to the city's Department of Construction, there are three feasible underground car park projects in the downtown area in addition to the one underway below Le Van Tam Park: Trong Dong outdoor theater, Hoa Lu Stadium and Tao Dan Park.
The Prime Minister approved HCMC's first underground parking project to be built under the Le Van Tam Park in the form of BOT (build, operate and transfer). The firm will operate the integrated car park and commercial center over a period of 50 years.
The car park will help to resolve the lack of car parking in the city for many years.