A festival entitled "Recycling Day 2008" took place yesterday at Le Van Tam Park in District 1 to promote public awareness of environmental protection and the importance of recycling.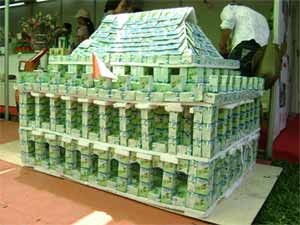 A model of Nha Rong Wharf made from recycled material is displayed at the park

The organizers' mottos include, "Recycle today, benefit the future" and "Recycle for a better environment".

Thirty-six kiosks were set up at the park by universities and organizations to introduce a wide variety of products made from garbage, including cans, bottles and cartons. Visitors were encouraged to bring used materials such as light bulbs and batteries and exchange them for gifts.

The waste collected from visitors will be transferred to the Public Works Service Company for classification and recycling.

Ms. Pham Phuong Thao, Chairwoman of the city's People's Council, Deputy Minister of Natural Resources and Environment Tran The Ngoc, and representatives from the Japanese consulate and the consulate of the Republic of Korea also participated in the event. The festival was organized by the city's Department of Natural Resources and Environment and by the Sai Gon Giai Phong Newspaper.

Around 6,000 tons of waste are from the city are buried underground everyday. It is necessary to draw up a plan for waste recycling to protect the environment and exploit the full potential of garbage, said Mr. Ngoc.

SGGP Deputy Editor-in-Chief Nguyen Thi To stressed that the newspaper will take active role in raising public awareness on waste issues and that it will take part in recycling work.