The Ho Chi Minh City administration has called on the Government to halt 20 hydropower projects along the Dong Nai River as they might have environment impacts on the river.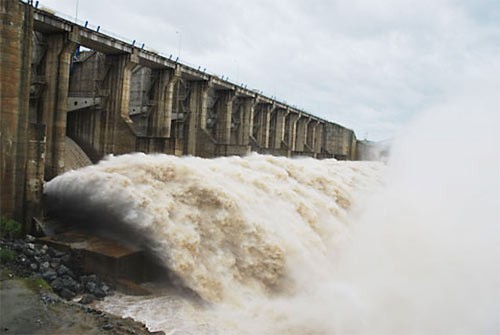 Water discharged from the reservoir of Ba Ha River Hydropower Plant in the central province of Phu Yen (Photo: SGGP)
Nguyen Van Lai, director of the city's Department of Industry and Trade, said the recent flood discharges in the central region which have caused flashfloods in the region show negative effects from the construction of hydropower plants without a master plan.  
 
He said if further 20 hydropower plants will be built on the river without regard to the environmental impact, they will probably have a severe impact on living environment of some provinces in the lower course area of the river including HCMC, Binh Duong, Dong Nai and Ba Ria-Vung Tau.
 
The hydropower plants will seriously affect the balance of water resources, he added.
 
For instance, he said, to build the plants' dams, a remarkable area of forest will be destroyed.
 
The destruction of natural forest will reduce the volume of water conserved in the rains and the volume of groundwater, leading to an exhaustion of water resources, Mr. Lai added.
 
When reservoirs of upstream hydropower plants discharge their water, others built below them will have to release water in a chain reaction, then causing serious flooding downstream.
 
Nguyen Van Nga, head of the Water Resources Management Division under the city's Natural Resources and Environment Department, said the Dong Nai River has seen a decrease in its water level since 2009.
 
Tan Hiep Water Plant and Thu Duc BOO Water Plant have had to stop taking water from the river for two to six hours per day when the river is covered by salt water, affecting the plants' supply of running water, he said.
 
The water level of the Dong Nai River fell by 20 centimeters, while salt water covered the river two months earlier than previous years in the last dry season, he added. 
 
Professor Doan Canh from the Tropical Technique Institute said existing hydropower plants on the river have also created considerable impacts on the river's water level.
 
The floristic composition along the riverbanks now has only one stratum while previously it had four, he added.
 
Prof. Canh said the existing plants have reduced the reserve of rainwater. In addition, the high water flow from the plants' operation has devastated the riverbanks.
 
The riverbanks have been eroded rapidly and severely. Water from the upper river has flowed to the lower river and then run into rivers and canals more rapidly, causing great floods in the lower area.
 
The Industry and Trade Ministry said it is difficult to monitor the operation of small hydropower plants fully.
 
The rampant development of small and medium-sized hydropower plants in the central region has caused heavy floods in the region, according to the ministry.