Preventing an economic recession, maintaining growth, ensuring social stability, and generating jobs are the city's main tasks in coping with the economic crisis, Ho Chi Minh City People's Committee chairman Le Hoang Quan said.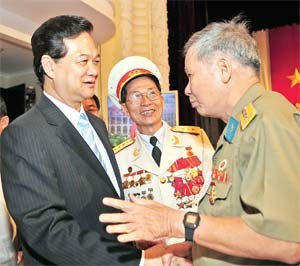 Prime Minister Nguyen Tan Dung (L) with some military officials at a meeting held to mark Liberation Day in HCM City on April 30 (Photo: SGGP)
He was speaking at a ceremony on April 30 to celebrate the 34th Liberation Day, International Labor Day (May 1) and the 55th anniversary of the Dien Bien Phu Victory (May 7).
The ceremony was attended by Prime Minister Nguyen Tan Dung; city Party Committee secretary Le Thanh Hai, Deputy Minister of Defense Senior Lieutenant General Phan Trung Kien, Vietnam Fatherland Front chairman Huynh Dam, city People's Council chairwoman Pham Phuong Thao, and other high-ranking officials.
Many revolutionary veterans, heroic mothers, and religious leaders were also present.
Mr. Quan recalled the great contributions made by the soldiers and people of Sai Gon to the Dien Bien Phu victory and the Tet Offensive in 1975 that led to the liberation of South Vietnam on April 30 and the re-unification of the country.
In the last 34 years the city's Party, government, and people have united and promoted its spirit of innovation and creativity to ensure socio-economic development, Mr Quan said.
He called on official agencies and people to continue to "study and follow President Ho Chi Minh's moral example."
He believed that with continued effort, the city would overcome all impediments and challenges to achieve its social and economic targets this year.
Veterans and youth representatives promised to make greater contribution to the city's development.
Earlier, many officials led by Mr. Hai offered incense at the city Martyrs' Cemetery and laid a wreath to commemorate those who sacrificed their lives for the fatherland. Prime Minister Nguyen Tan Dung and other leaders also attended the ceremony.
They also visited the Hung Kings Memorial in District 9, where they offered incense to the kings and visited a showroom of ethnic cultural relics.
A military delegation led by Major General Lam Tan Tai, chief of the HCM City Military Command, visited the Martyrs' Cemetery in Cu Chi District, a memorial to more than 44,000 fallen combatants from around the country.
In the northern province of Quang Tri, a festival was held on the Hien Luong Bridge over the Ben Hai River to mark the re-unification of the country. It was attended by thousands of former soldiers and visitors, including many foreigners.