Looking back and reviewing Russia's October Revolution reminds people of the significance of the world's first proletarian revolution, said Than Thi Thu, secretary of the city's bloc of Party organs in Ho Chi Minh City November 7.
The revolution confirmed "our determination to follow the way it has set and reiterated that Marxism-Leninism and socialism are not trends but necessities," she added.
Ms Thu was speaking at the ceremony held in Ho Chi Minh City to mark the 92nd anniversary of the October Revolution (November 7).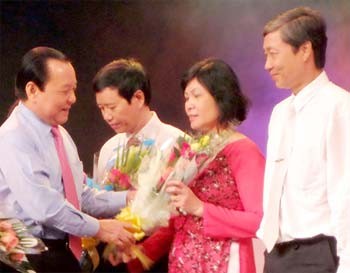 HCM City's Party leader, Le Thanh Hai, presents flowers to individuals who achieved good performances in following Ho Chi Minh's moral example at the celebration of Russia's October Revolution in the city on November 7 (Photo: SGGP)
Present at the ceremony were the city's Party Committee Secretary, Le Thanh Hai; his deputy Nguyen Van Dua; head of the Party Committee's Organization and Personnel Commission, Nguyen Thi Thu Ha; and deputy chairperson of the People's Committee, Nguyen Thi Hong.
"The victory of Russia's October Revolution brought a fresh wind to the Vietnamese revolution. President Ho Chi Minh, as well as our Party, was profoundly influenced by the Revolution," said Ms Thu.
She added, "Without the October Revolution, the Vietnamese people would have not made their August Revolution [in 1945] a success."
At the ceremony, 59 units and 145 individuals from the city's Party agencies were praised for their good performances in studying and following Ho Chi Minh's moral example.
The same day saw the first episode of the "A Necessity,"a political commentary program to welcome the 80th anniversary of the Communist Party of Vietnam (February 3), broadcast on HCM City's HTV 9.
Themed "The Great October Socialist Revolution," the episode reviewed historical landmarks that led to the Revolution and confirmed its great historical significance, which was indicated in its idea to create peace for every nation, farming land for peasants, bread for the poor, and freedom for slaves.
"Following the victory of the October Revolution, the Russian working class took on power and became the master of the country. The revolution not only brought happiness for Russian laborers but also created an inspiration to the worker class all over the world," the former head of the Party Central Committee's Commission for Ideology and Culture, Tran Trong Tan, said in the episode.
Also the same day, a get-together was held by the HCM City Vietnamese-Russian Friendship Association to celebrate the October Revolution.
Speaking at the event, the Russian Consul General, Nikolai Ubishiev, expressed his thanks for the Vietnamese people's profound sentiment toward the Revolution, considering that feeling a momentum to promote the traditional friendship between the Russian and Vietnamese peoples.