Le Hoang Quan, chairman of the People's Committee of Ho Chi Minh City, on June 13 examined progress of the dredging of Soai Rap River, which will play a significant role in development of the seaport system in the City.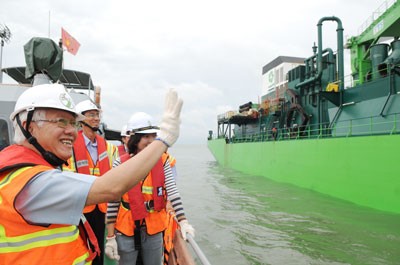 Le Hoang Quan, chairman of the HCMC People's Committee, surveys dredging work in Soai Rap River on June 13 (Photo: SGGP)
According to the project management board, the contractor has dredged more than 2.3 million cubic meters of mud and sand, which is about 19 percent of the work volume, as of June 10.
The dredging work is expected to complete by June 5 next year so as to allow 30,000-50,000 ton vessels to pass through.
Chairman Quan instructed the execution units to ensure work quality and steady progress. Mud and sand should be properly dredged in accordance with environmental hygiene regulations.
After the dredging is complete, Soai Rap River will help HCMC develop the seaport system in Hiep Phuoc area in Nha Be District, facilitating moving of seaports along Saigon River from inner City limits.