On occasion of Vietnam Doctor's Day, Le Hoang Quan, Chairman of the People's Committee of Ho Chi Minh City led a delegation to visit Pham Ngoc Thach Medical College on morning of February 26, to greet the medical staff and doctors there.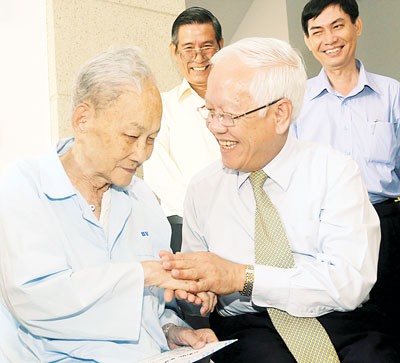 Cap: Chairman Le Hoang Quan (R) visits Prof. Dr. Nguyen Thien Thanh on occasion of Vietnam Doctor's Day (Photo: Mai Hai SGGP)
He also visited and wished Dr.Duong Quang Trung, former Director of the City Health Department, and Dr.Pham Manh Hung, Chairman of the Vietnam Medical Association, who have contributed greatly to building and training generations of medical doctors in Vietnam and cured thousands of patients.
Chairman Le Hoang Quan noted the achievements and contributions of Doctor Duong Quang Trung to the country's health sector.
During the war, Dr Trung had volunteered to move from the North to the South of Vietnam to participate in helping guerilla fighters at Hoang Le Kha Hospital, and serving the staff of the anti-Saigon guerilla forces.
In peace time, he implemented the task of prevention of epidemics and diseases; control of trauma cases left by the old regime; cooperated with foreign doctors to establish the Heart Institute; made suggestions to develop a strategy for health; and trained medical personnel and doctors for Ho Chi Minh City.
Chairman Le Hoang Quan also visited and wished Prof. Dr. Nguyen Thien Thanh, former Director of Thong Nhat Hospital in HCMC.
On the same day, Party General Secretary Nguyen Phu Trong visited staff at K Hospital and the National Hospital of Pediatrics to congratulate them on the occasion of Vietnam Doctor's Day.
Party General Secretary Trong expressed hope that Vietnamese doctors follow President Ho Chi Minh's teachings and continue their noble profession. He also offered gifts to patients being treated at both hospitals.
During the visit, Mr. Trong stressed that the Vietnamese Party and State regard public healthcare as an important strategic mission.
The hospital director reported to the Party leader that this country of 88 million sees 170,000–200,000 cancer cases and more than one million tumor patients every year, posing a challenge for K Hospital and the medical sector as a whole.
The National Hospital for Pediatrics now has 1,250 beds and over 1,600 medical staff.
Last year, the hospital offered health check-ups to 700,000 children, and treatment using advanced technology to 60,000 patients.