Le Hoang Quan, Chairman of the People's Committee in Ho Chi Minh City, on Friday instructed relevant departments to speed up site clearance tasks for construction of the first metro route from Ben Thanh to Suoi Tien, expected to kick off on August 28.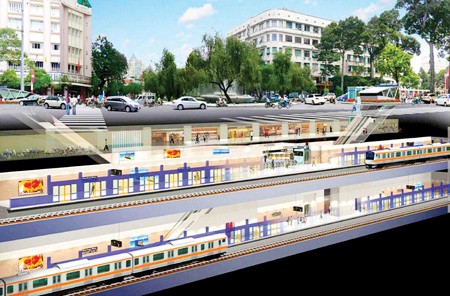 Model of the Saigon Opera House Station for the Ben Thanh-Suoi Tien metro route (Photo: SGGP)
The City Chairman was speaking at a meeting with relevant departments on matters related to the construction of the first metro route project.
The Ben Thanh-Suoi Tien metro route in HCMC will stretch across 17.1 kilometers at an estimated cost of US$2.2 billion.
At the meeting, Mr. Quan instructed Thu Duc District to relocate some of the remaining households as soon as possible to make way for the metro route construction. Failing which, district leaders must answer to the HCMC People's Committee.
The HCMC Infrastructure Investment Joint Stock Company and the electricity department were also prompted to clear the way for the metro track route.
Mr. Quan ordered the Management Authority for Urban Railways to examine all clauses in the contracts to build the route before beginning the actual construction.
The Ben Thanh-Suoi Tien metro route will run through Districts 1, 2, 9, Binh Thanh, Thu Duc in HCMC and parts of Di An District in the neighboring province of Binh Duong.
Three kilometers of the route will run underground with three stations and the remaining sections will be constructed above the ground with 11 stations.
Metro route Ben Thanh-Suoi Tien is designed to transport about 162,000 passengers a day. Travel time is expected to be about 29 minutes from one end to the other end at 39 kilometers an hour.
Subway stations will remain open 20 hours a day with a train departing at every five to six minute intervals.