Many activities have been organized in the city to mark International Children's Day on June 6. The HCMC Children's Cultural House at 169 Nam Ky Khoi Nghia, District 3, has organized a 3-day Children Festival to offer playgrounds to the children of the city on this occasion.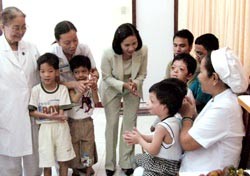 Deputy Chairwoman Nguyen Thi Thu Ha talks with children being brought up the Hoa Binh Village
Yesterday, Deputy Chairwoman of Ho Chi Minh City People's Committee, Nguyen Thi Thu Ha together with delegates from the Ho Chi Minh City Red Cross visited and offered gifts to children with a disability and those affected by Agent Orange who have been brought up at the Hoa Binh Village of the Tu Du Maternity Hospital.

Representatives of the HCMC Commission for Population, Family and Children visited and gave gifts to 400 poor or disadvantaged children and orphans living in charity centers in Districts 12, Binh Tan and Nha Be.

Representatives of the HCMC Labor Union visited and offered presents to 500 children from poor families in Long Truong Ward of District 9, Le Minh Xuan and Pham Van Hai Communes of Binh Chanh District, Long Thoi Commune of Nha Be District and in Thanh An Commune of Can Gio District. Each gift was worth VND70,000.

The Youth Union of District 3 organized the festival "Well-behaved nephews and nieces of Uncle Ho". Nearly 500 children in the district gathered together to tell about their achievements made during the past year. Among them, 30 were selected for commendations.

A three- day children's festival officially began yesterday morning at the HCMC Children's Cultural House to offer various playgrounds including a drawing and painting contest for the children of the city.