Today's younger generations must follow the patriotic tradition of their predecessors and contribute to building and developing the country, the Party Committee secretary of Hoc Mon District in Ho Chi Minh City has said.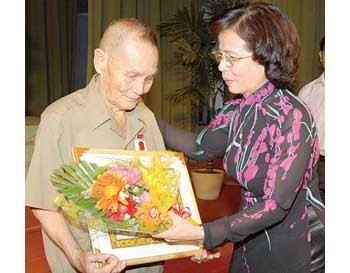 HCMC Party deputy secretary Huynh Thi Nhan (R) honors a revolutionary veteran from Hoc Mon District November 23 (Photo: SGGP)
Mr. Nguyen Van Hoa was speaking at a meeting held in the district on November 23 to mark the 69th anniversary of the Southern Uprising.
It was attended by former prime minister Phan Van Khai; former vice president Truong My Hoa; the city Party Committee's deputy secretary, Huynh Thi Nhan; the People's Committee deputy chairwoman, Nguyen Thi Hong; the Fatherland Front Committee standing deputy chairwoman, Vo Thi Dung; army officers, military heroes, heroic mothers, and representatives of the city's 24 districts.
"People across the country, especially in the south, always remember the brave sacrifices of the southern soldiers who fell for the freedom and independence of the fatherland," Mr. Hoa said.
"Although the uprising in Hoc Mon on early November 23, 1940 was driven back by the enemy, the people here continued to follow the Party's leadership to achieve total victory."
Ms. Hong and Ms. Nhan conferred badges of Party seniority on 17 veteran revolutionaries in the district who have been members for 30, 40, 50, and 60 years.