Ho Chi Minh City's Party Committee wrapped up a one-day working session Thursday with its determination to restrain inflation and stabilize the economy.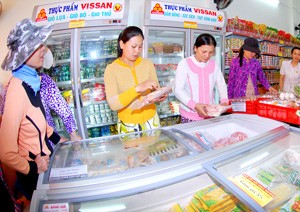 File photo shows residents buying price-stabilized goods at a shop in District 12, Ho Chi Minh City (Photo: SGGP)
City Party chief Le Thanh Hai told the meeting that the southern economic hub needed to do that as the whole country was already set to fight against inflation this year, 2012 and even 2013.
He said the city needed to focus on measures designed to assure social order and effectively carry out assistance programs for the low-income people.
As for business assistance, he said companies and enterprises were facing high money cost resulting from tightened capital supply policies. Therefore, the city administration needs to help them out.
Enterprises are also facing difficulties in market access, he added.
The city's Party chief asked the city administration to make more efforts in effectively maintaining its price stabilization program, with more diverse measures, as the traditional Lunar New Year will come after the end of the year.
As for 2012 and the next five years, the Government of Vietnam is set to give priorities to shake-up in three areas namely investment (mainly public investment), business (mainly State-run companies) and the financial market (with focus on commercial banks), Mr Hai said. Therefore, the city needs to re-organize 16 State-run corporations and big-sized enterprises as they play an important role boosting the metropolitan economy.