Today, deputies of the seventh-term Ho Chi Minh City People's Council convened to review the city's socio-economic situation during the first six months of 2007, and to discuss tasks for the remaining months and other major issues.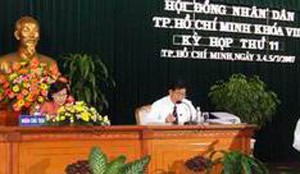 The Ho Chi Minh City People's Council convenes on July 3

A report revealed that the City's Gross Domestic Product during the first six months of the year saw an 11.2% increase, to reach VND99 trillion (US$6.2 billion).

The report also focuses on the ups-and-downs of the City's stock market, detailing two contradicting predictions for its future. Some predict that the VN-Index will continue to rise and exceed 1,100 points following the increasing flow of foreign indirect investment over the second half of the year (around US$1.5 billion). Whilst others predict the VN-Index will fall below 900 points following the reduction in loans and pledges of stocks.

At the meeting, delegates will discuss the approval of four new fee types, as submitted by the HCM City People's Committee.
These new fees include fees relating to water (to appraise and grant licenses for the exploration and exploitation of water, discharge of wastewater and for drilling and exploitation of underground water), housing fees (fees to grant house ownership and certificates for right of land use), hygiene fees and fees for birth, death and marriage registration in the city.

The council will also review activities concerning food hygiene standards that took place earlier this year and will discuss major tasks for the remaining months, including the inspection and imposition of sanctions on violators.

Earlier, the HCMC People's Committee ordered the relevant departments and equivalent State Agencies to prepare reports for presentation at the meeting.

Among which, the Department of Planning and Investment prepared a report discussing the City's economy from January to June and tasks for the remaining months of the year.

The Department of Architecture and Town Planning reported on the City's general construction plan through to 2025, including detailed town planning information, after-zoning management and the adjustment or suspension of infeasible town planning schemes.

The Department of Construction, in collaboration with relevant departments, produced a review on site clearance, compensation, resettlement, training and job placements for those people relocated from their homes due to the construction work in and around the city.

The Department of Finance prepared a report outlining the implementation of the Law on Saving and Anti-Corruption in the first six months of '07 and plans for the remainder of the year.