Continuing their business trip in Japan, a HCMC high level delegation led by city's party chief Dinh La Thang yesterday visited infrastructure projects operating under public private partnership (PPP) model in Aichi province.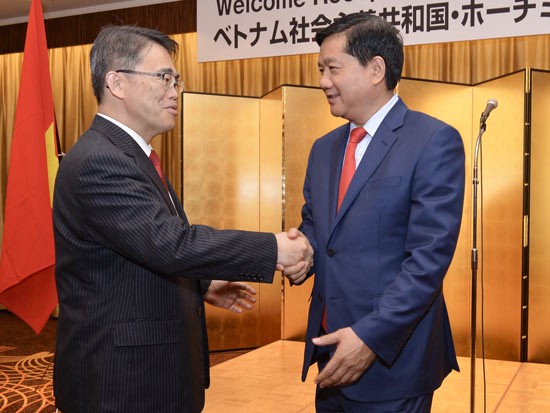 Governor of Aichi province Hideaki Ohmura (L) welcomes HCMC party leader Dinh La Thang and the city delegation in the province on April 11 (Photo: SGGP)
The projects include toll road Chita Peninsula, Chubu international airport and Aichi international exhibition center in the province's Nagoya city.
 
At these places, the city delegation was provided with detailed information about the projects' model, process of investment invitation, exploitation and experience transfer from Japanese private investors to their government.
 
According to the provincial government's representative, PPP model applied in Aichi will limit risks for businesses, create a balance in risk and profit sharing between the government and private firms.
 
Aside from that, the model comprises mechanisms to ensure works' progress, quality and efficiently manage businesses' toll collection afterwards.
 
Delivering a statement during a courtesy visit to Aichi governor Hideaki Ohmura on the same day's evening, secretary Dinh La Thang said that HCMC was in dire need of funds for infrastructure development. So the model in Aichi would be suitable for the city to learn about.
 
He hoped the provincial authorities to share experiences and called on experienced businesses from Aichi to assist the city to develop the model.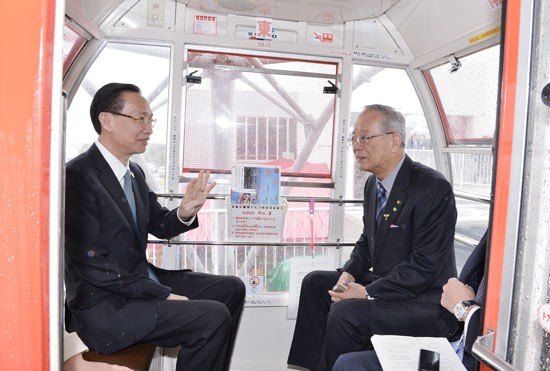 Deputy chairman of the HCMC People's Committee Le Thanh Liem (L) learns about operation of toll road Chita Peninsula in Aichi (Photo: SGGP)
Mr. Thang thanked the governor for spending time to receive the HCMC delegation, stressing that their visit to Japan is to learn about cooperation ability between the city and Japanese localities.
 
The trip also aims to affirm a commitment to develop unshakeable partnership relations between HCMC and Aichi, who have signed a cooperation memorandum of understanding last year on the occasion of an Aichi delegation visit to the city.
 
Aichi has strength in machine and equipment manufacturing including auto industry, Mr. Thang commented. He hoped that the province will collaborate with HCMC, where investment environment has been improving and has an abundant labor force, to develop support industry in the city and assist it to join the global value chain.
 
At present, about 18,000 Vietnamese people are living, working and studying in Japan, ranked second in the country.
 
Of these, there are 417 Vietnamese students in Aichi. In Vietnam, an association of former students from Aichi has been established. National flag carrier Vietnam Airlines has opened a straight route to Nagoya city with the frequency of five flights a day week.
 
With that good and close relationship, Mr. Thang proposed the Aichi governor and government to continue facilitating Vietnamese citizens' living, working and study in the province.
 
He expected that the provincial government would provide Japanese scholarships for foreign relation cadres of HCMC to intensify the two sides' cooperation quality.
 
Recording the proposals by Mr. Thang, governor Ohmura asserted Aichi's willingness to assist HCMC to implement PPP projects and expected that city leaders will create conditions for businesses from the province and Japan also to apply the model in specific projects in the upcoming time.

Related articles:
City leader proposes Japanese firm to speed up metro line
HCMC calls for speeding up Xuyen Tam Canal Upgrade Project
HCMC asks for help from Japan's wastewater treatment technology
JICA willing to cooperate with HCMC in public private partnership
HCMC high level deputation starts ten day visit to Japan