A large volume of foreign investment has been pumped into large urban development projects. This has raised public awareness of the severe shortage of the infrastructure where such development projects are being built.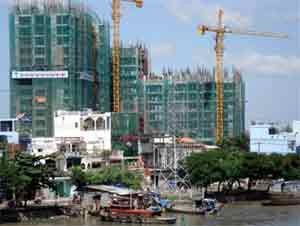 A under- construction project in Sai Gon South
Infrastructure will no doubt become overloaded as more projects are built, said Mr. Tran Du Lich, director of the city's Institute of Economics.

At the other side of the Kinh Te Bridge is District 7, where dozens of large projects are under construction funded by both foreign and domestic investors.

Many look for apartments here in such projects as Hoang Anh Gia Lai and New Sai Gon and are enchanted by the modern architecture of high-rise blocks of apartment buildings. However, they are disappointed when they see streets only six to eight meters wide that run around the project sites or lead to them. They point out that once all the apartments are filled with inhabitants, such narrow streets will be cramped with high traffic during rush hours, leading to unavoidable congestion.

Mr. Nguyen Nguyen Thai, deputy director of CB Richard Ellis Vietnam (CBRE), revealed that by the end of the year, 12 projects will offer 8,000 additional apartments for sale in the city. Many of them are located in Sai Gon South and will attract a large number of residents. Mr. Thai said that their could be a shortage of infrastructure because not many real estate projects build schools, hospitals, markets, supermarkets or fire stations to serve the local community.

Although only a small portion of the projects approved for Sai Gon South have been built, the street linking the area to the city center is already overloaded with all kinds of vehicles, said Mr. Lich
This leads to frustrating traffic jams during rush hour at the Kenh Te, Chanh Hung and Nguyen Tri Phuong bridges.

Another urban development project that faces a lack of infrastructure in the Sai Gon South is Hiep Phuoc Port. Mr. Lich feared that even after it is completed in 2010, the port cannot put into operation if plans for building further bridges and streets linking Districts 7, 9 and Binh Chanh to the city center are not made quickly.

It is expected that city will attract about US$10 billion in foreign investment reserved for the development projects. Of this amount, around US$1 billion will be disbursed by the end of this year. While urban development projects are being constructed in Sai Gon South, Districts 8, Nha Be, Binh Chanh and especially in District 7, the government needs effective management policies and schemes to control the development of construction projects in the such areas.

If they are left to develop spontaneously as they are now, city residents can expect more serious traffic jams. In addition, there is likely to be extensive flooding during the rainy season unless the city's drainage system is improved.