Ho Chi Minh City needs to spend VND4.3 billion (US$261,000) to strengthen dykes and embankments prone to breach in districts 12, Thu Duc and Go Vap, the city department of disaster management has said.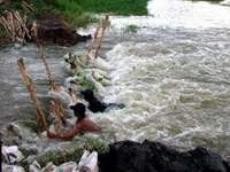 A man reinforeces a dyke in district 12. HCM city needs VND4.3 billion to prevent floods in the city.
A portion of the dyke was breached once in district 12, but timely repairs were carried out, it noted, proposing that fresh reinforcements are made before the next inundation.
The last rise in water levels in the irrigation canals bordering these districts was measured at 1.32meters on September 2, the Southern Hydro-Meteorological Center reports. Although it was not as high as the first-danger level of 1.45 meters, it still caused flooding in some parts of the city.
Torrential rains are likely to cause flooding in districts 6, 8, 12, Binh Thanh, Go Vap and Hoc Mon in the coming days, the center says.