The Ministry of Finance has decided to reorganize Ho Chi Minh City's e-customs sub-department and rename it as HCMC Tan Cang Customs Sub-Department.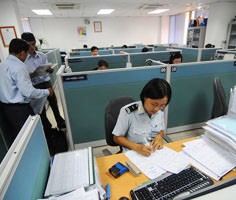 The HCMC e-customs sub-department in District 1 will be renamed and moved to Binh Thanh District (Photo: Tuoi Tre)
Do Huu Toan, head of the e-customs sub-department, said November 10 that his department would move from District 1 to Tan Cang Port area in Binh Thanh District.
The sub-department is waiting for a circular on e-customs clearance and training from the central customs agency and more modern software for e-customs declaration to effect the makeover, he said.
In the five years since e-customs declaration was introduced, 377 companies have been making use of it.
Related article:
City customs to widen, not abolish, e-clearance