Ho Chi Minh City's administration encourages citizens to contribute ideas for development of rural areas, Ms. Nguyen Thi Thu Ha, Deputy Secretary of the HCMC Party Committee, has said.
She said this while touring the outlying districts of Cu Chi on September 21.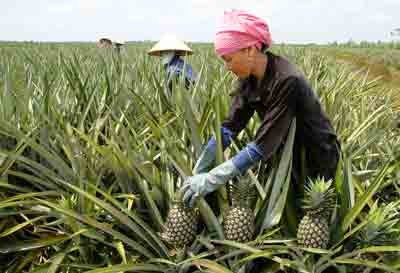 Cayen pineapple harvesting for export in Binh Chanh District in Ho Chi Minh City (Photo: SGGP)
A city Party delegation led by her visited Phuoc Vinh An and Phuoc Hiep communes in Cu Chi to see first hand the implementation of Resolution No.22 set by the Central Party Committee.
She commented that as per the resolution, certain improvements have been made in both the Party Committees and the Party Cells of the two above mentioned communes. All related authorities and departments have strictly adhered to the guidelines set by the Communist Party of Vietnam.

During the last 5 years, there have been about 43 new party members added in Phuoc Hiep Commune and during the last 3 years Phuoc Vinh An Commune has welcomed 20 new party members, all of outstanding character and integrity.
Ha also suggested that both the communes must actively propagate the party's political concepts to citizens, fully collaborate resolution guidelines concerning agriculture and farmers and continue to follow Ho Chi Minh's teachings.
It was also recommended that the Party Committee of each commune specify in detail targets that are suitable for every hamlet and methods to achieve them.
Through this process, the local government must select active residents, especially those who have high credibility amongst their fellowmen or leaders of grass root movements or managers of business organizations, for accession as new members of the Party.
The local government must also pay closer attention to the activities of party committees to ensure that rules and regulations are followed.
It is the responsibility of related authorities to urge farmers to develop their farming techniques and aid them in crop transfer methods and switching from agricultural to industrial activities in certain areas of the two communes.
* In related news, Deputy Prime Minister Vu Van Ninh has just announced in a report, the status of the implementation of the national target program 'Building a New Rural Area'.
According to this report, the Ministry of Agriculture and Rural Development needs to cooperate more closely with related organizations and authorities at all levels to achieve targets.
It is important to have a steady supply of material for agricultural activities, ensuring both quality as well as reasonable pricing for all kinds of produce, to boost farmer confidence. There is also a need to develop appropriate policies for a more steady income for people working in the forestry and fishing industries and policies to protect the country's national sovereignty.