Ho Chi Minh City has ensured there will be ample supply of goods during Tet (Lunar New Year) next month, and that prices will remain stable, Le Ngoc Dao, deputy head of the city's Department of Industry and Trade said on January 13.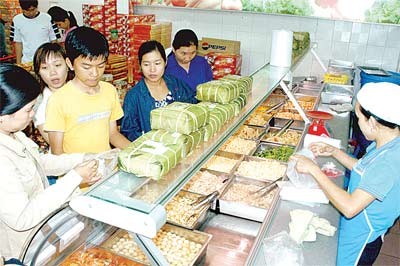 Shopping for Tet at a supermarket in Ho Chi Minh City (Photo: SGGP)
She made the statement at a meeting with other departments, people's committees of the city's districts and 15 enterprises joining a price stabilization program to discuss preparation and distribution of Tet goods.
Addressing the meeting, Ms. Dao said the preparation is going well.
Supplies of essential goods and foods will come from the 15 enterprises, wholesale markets, supermarkets and trade centers, she added.

Ms. Dao said the Department of Industry and Trade has kept an eye on the market to forecast demand of staple goods to ensure adequate supply before, during and after the festival.

The department hopes to avoid any goods shortages and prevent speculation and unreasonable price hikes.

The department will report to the HCMC People's Committee if market trends become erratic.

According to Ms. Dao, the 15 enterprises' turnovers have soared, on average, about 30 percent, with some enterprises seeing a 40 percent increase, over the same period last year.

She said to prevent speculation and price shocks caused by shortages, the department has asked these enterprises to implement their commitments to the HCMC People's Committee to provide goods continuously to the market according to plan.

Every enterprise has to take the initiative to monitor shops that sell its products in terms of price, quality, hygiene and safety standards, she added.

Relevant agencies will establish teams to inspect the Tet goods market, and penalize violations of price, quality and food safety regulations strictly, she said.

The city will organize selling Tet goods, including eight food items 'capped' at a certain price, to remote lying areas from January 18 to 31, with Saigon Co-op Company and Saigon Trading Group organizing 120 and 29 mobile shops respectively.