Banks have plenty of funds, but small- and medium-sized enterprises, especially those in real estate, are very "thirsty" for it.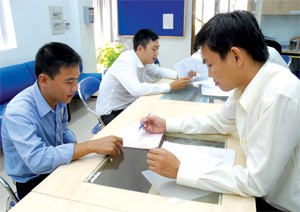 Entrepreneurs lodge their loan applications with an Eximbank branch in Ho Chi Minh City (Photo: SGGP)
This contradiction emerged at a meeting yesterday between governmental and municipal authorities and enterprises from Ho Chi Minh City, held to discuss difficulties the latter are facing in terms of funds, interest rates and tariffs.

Huynh Van Minh, chairman of the HCMC Enterprises Association, said small- and medium-sized enterprises, especially real estate ones, are very "thirsty" for funds, while Ho Huu Hanh, director of the State Bank of Vietnam (SBV) branch in HCMC, said banks have had plenty of money to lend since September.

Mr. Minh said enterprises are unable to access funds because of very high lending rates that their profits cannot match.

Director Hanh responded that over 80 percent of loan applications at 97 banks were not qualified, applicants' business plans were unfeasible and their credit-worthiness unclear.

Chairman Minh said that the Government's tight monetary policy had slowed down many feasible projects.

Central bank governor Nguyen Van Giau said the bank has pledged to loan VND14.3 trillion to 151 real estate projects, and so far VND9.3 trillion has been disbursed. The remaining is yet to be disbursed, so it can't be said firms are thirsty for funds.

The city People's Committee vice chairwoman Nguyen Thi Hoang said the city has just established a VND50 billion guarantee fund for enterprises with the participation of seven banks. If any enterprises were in need, they could apply to the fund.

Minh wanted the Government to prioritize exporters and retailers in terms of access to funds, especially given that the country will open up its retail market in early 2009 according to its commitments to the World Trade Organization.

Lending rates should be reduced continuously to less than 10 percent per year so that enterprises can survive, he added.

Le Thi Tu Anh, vice chairwoman of the HCMC Young Entrepreneurs' Association, also suggested the Government reduces lending rates and income tax for enterprises soon.

Nguyen Thi Hoa Le, general director of Hoa Binh Tourism Company, complained that the consecutive changes in tax policies have affected companies' business activities.

Meanwhile, Nguyen Van Tam, deputy general director of Ben Thanh Trading & Service JS Company, said the city's taxation department has delayed refunding tax to companies, making them suffer further capital shortages.

HCMC People's Committee Chairman Le Hoang Quan asked the department to report on this case.

The meeting was also attended by deputy minister of finance and head of the General Department of Taxation Do Hoang Anh Tuan.