High-interest loans are making it difficult for Ho Chi Minh City enterprises to carry out production activities and export goods, so timely measures should be adopted to reach targets set for 2010, said city Chairman Le Hoang Quan on April 10.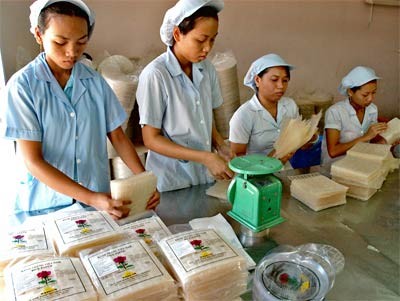 Workers package rice paper for export at Ut Duoc factory in HCMC's Cu Chi District (Photo: SGGP)
He made the statement at a meeting held between the Central Bank; the ministries of Industry and Trade, and Finance; the city People's Committee; and local businesses to discuss current challenges faced by enterprises.
 
Mr. Quan said that in general, the city's socio-economy showed positive changes in the year's first quarter, with a growth rate of 11 percent and social welfare ensured. However, the macro economy showed signs of instability, with prices of many goods and interest rates rising.
 
Most enterprises agreed that one of the biggest obstacles to carrying out business successfully is the current high interest rates on loans.
 
Huynh Van Minh, chairman of the HCMC Entrepreneurs Association, said the economy saw high growth in the first quarter because of effective, continuing stimulus measures.
 
But entering the second quarter, enterprises are facing a host of difficulties including higher input costs, exchange rate fluctuations, and negotiable lending interest rates of 17-18 percent, he said.
 
Ly Kim Chi, vice chairwoman of the HCMC Food and Foodstuff Association, said more than 80 percent of the association's members are presently unable to access loans due to strict procedures.
 
In response, Nguyen Thi Hong, HCMC's vice chairwoman, said the city has established the Credit Guarantee Fund for small- and medium-sized enterprises in need of funding. If enterprises have good business plans they should contact the fund managers, she said.
 
Large enterprises as well, such as Ben Thanh, Sai Gon Trading and Samco, have also faced funding shortages. Some of companies' big projects are developing behind schedule as the enterprises have failed to negotiate reasonable loan interest rates with banks.
 
Tran Quoc Toan, Samco's deputy director, said the company's two key transport projects have now come to a standstill because it lacks the funds needed to pay for site clearance compensation.
 
In addition to high lending interest rates, US dollar exchange rate adjustments have also caused headaches for businesses.
 
Cao Tien Vi, chairman of Sai Gon Paper Company's Management Board, said his business spent a huge amount importing equipment and improving technology in 2009.
 
However, due to an escalation of the exchange rate between the US dollar and Vietnam dong, not to mention the value added tax of 10 percent, the company has incurred heavy losses.
 
Specific policies for exporters
 
Enterprises said that policies on negotiable lending interest rates are appropriate, but shouldn't be applied to all businesses. For companies that produce commodities for export, the Government should maintain an interest rate cap to help such enterprises do business.
 
It's good the Government will provide funds to bring down interest rates, enterprises said, but even then, it's not certain that small- and medium-sized companies will be able to afford loans.  
 
Nguyen Bang Tam, deputy general director of Ben Thanh Corporation, said the Government needs policies to encourage businesses to speed up equitization and list their shares so that better sources for mobilizing funds will be created through issuance of stocks and bonds.
 
Central Bank Governor Nguyen Van Giau appreciated Mr. Tam's suggestion and said he would consider it as a way to mobilize more funds.
 
Mr. Giau said that during 24 years of implementation of economic renewal activities, the country has incurred a trade deficit. Therefore, the current aim of macro management is to boost exports, constrain the trade gap, and provide foreign currencies for importing only equipment, machines and goods which are not produced in the country.
 
Regarding loan interest rates, he said the Central Bank has cooperated with relevant ministries and agencies to complete directives for negotiable rates.
 
There will also be specific loan policies for exporters and the labor-intensive production sector, he added.
 
Do Hoang Anh, finance deputy minister, pledged to thoroughly consider and address enterprises' concerns about administrative procedures, customs, financial mechanisms and polices.