Although authorities in Ho Chi Minh City have implemented a lot of projects to resolve the perennial problem of traffic jams, they are constantly running out of funds to tackle these issues, particularly in the highly congested northwestern parts of the City.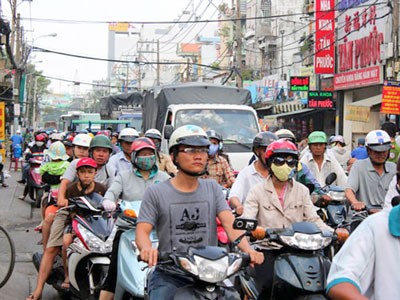 Au Co Street in Tan Binh District in HCMC is regularly congested (Photo: SGGP)
Tan Ky Tan Quy, Le Trong Tan, Luy Ban Bich, Au Co and Truong Chinh Streets in Tan Binh and Tan Phu Districts are far too narrow to accommodate increasing heavy vehicular traffic.
The 7m wide and 5km long Tan Ky Tan Quy Street connects National Highway 1A in Binh Tan District with Cong Hoa Street in Tan Binh District, areas that suffer constant traffic gridlock on a daily basis because of high volume of vehicles plying towards the City center.
Similar conditions prevail along Luy Ban Bich Street--the main route linking Phu Lam Intersection in District 6 with Ba Queo Crossroad in Tan Phu District.
A project to broaden Luy Ban Bich Street has been in the pipeline for the last two years but cannot be carried out due to capital shortage, said Bui Xuan Cuong, deputy director of the Department of Transport.
The Truong Chinh-Tan Ky Tan Quy and Truong Chinh-Au Co Intersections are constantly congested with heavy vehicular traffic. The Urban Traffic Management Zone No.1 has proposed the City People's Committee broaden these intersections, but so far there has been no action at ground level.
The City Department of Transport is now preparing to start expansion of Truong Chinh and Tan Ky Tan Quy Streets to reduce traffic pressure in these parts.
Expansion of a section of a road of length 1.5km will require an estimated VND1.2 trillion (US$57 million) in Tan Binh and Tan Phu Districts.