Enterprises in Ho Chi Minh City, many of whom are facing a shortage of workers, are offering bonuses to people who introduce them skilled workers.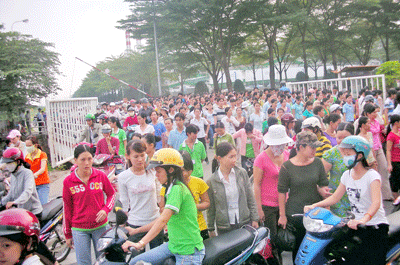 Workers leave a factory at the Tan Tao Industrial Park in Binh Tan District, HCMC, after work. City-based factories are unable to find workers and are offering commissions to anyone introducing a worker. (Photo: SGGP)
Nissei Electric Vietnam Company based in the Linh Trung Export Processing Zone I needs 600 workers to enable it to execute its orders that are flowing in post-crisis, but it has been unable to find even one.
Huynh Le Khanh, the company's manager, said: "We have gone directly to communes and villages to find workers. The Mekong Delta region was once a major supplier of workers for the city, but after industrial parks have been built there, workers don't want to go far to work. Therefore, we have to go to central provinces but recruitment is still difficult."
The company has announced it will pay VND150,000 to anyone who introduces a worker.
The company is offering incentives to its workers like subsidizing their education and job training and others, Mr. Khanh said.
"Despite this, finding workers remains difficult. The company plans to hire a further 800-1,000 people after the lunar New Year, but doesn't know where to find them," he said.
Proking Tex Vietnam Company in Binh Tan District has been looking in vain to hire 1,000 workers.
Tran Thi Phuong Thao, the chairwoman of its Labor Union, said: "The company has very simple requirements with regard to education and skill levels for workers. It is offering VND250,000 to anyone who introduces a worker who works for three months, VND500,000 if the worker agrees to work six months, and VND1 million if they introduce a skilled worker."
Many companies in industrial parks and export processing zones (EPZs) have posted recruitment advertisements with simple requirements and attractive welfare policies.
Mtex Vietnam Company offers an additional 18 days' leave besides official holidays and annual vacations, and FAPV Company offers to subsidize workers' house rent and transport costs.
Factories no more attractive to laborers
Ten years ago to get a job at factories in the Tan Thuan EPZ, workers had to be high-school graduates and residents of the city. But now many have eased the educational requirement to 5/12 (fifth grade) and some have even employed illiterates.
To find enough workers, most factories have had to employ unskilled people.
They have also relaxed age norms from 18 to 25 earlier to 30 now, with some even hiring people aged 35 to 40.
Electronics, footwear, and garment factories that previously employed only women workers now employ men to.
Le Thi Ngoc Lien, deputy director of the HEPZA Employment Center, said IPs and EPZs required 50,000 workers in 2009 but her center could provide only 10,000.
She blamed the shortage on low wages, saying that a monthly salary of VND2 million is inadequate considering the increasing cost of living in the city. Therefore, workers prefer seasonal jobs with higher wages or working in IPs based in their hometowns, she explained.
Nguyen Thi Thom, 22, who sells balloons on Dien Bien Phu Street, said: "I can earn over VND100,000 daily and this job has no time requirements. Working in factories requires me to be on time and the pay is low."
According to the HCMC Labor, Invalids and Social Welfare Department, there were over 18,000 unemployed people in the city by last December while factories complained they required thousands more workers.