Ho Chi Minh City residents have continued to illegally dispose of their inorganic waste on empty land or on riversides, despite local government's efforts to prevent the practice.
The local media have been rife with reports on what they call the illegal waste dumping "pandemic."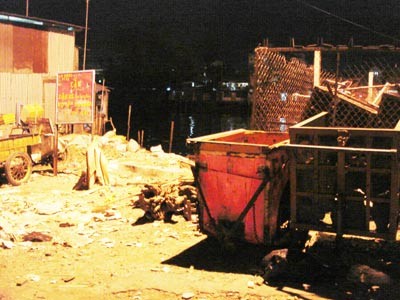 A newly born illegal dumping ground along a river in District 8, Ho Chi Minh City ( Photo: X. Thai)

Sidewalks and riverbanks by the Cong Ly Bridge in District Phu Nhuan, and deserted land beside the Nhieu Loc canal are cluttered with trash. So are areas of Tu Xuong and Ngo Thoi Nhiem streets in District 3.
The local government in Ward 11, District 3 has offered rewards to those who reported the wrongdoing.
The solid waste often comes from private construction sites and toilets.
The Ho Chi Minh City Environmental Company (Citenco) is in charge of treating such waste, however, city residents rarely transport construction waste to the company because it costs at least VND150,000 to have it picked up.
They can hire a vehicle to deliver it, which costs VND30,000-VND40,000, but the motor rickshaw drivers who do such tasks have admitted that they often throw construction waste elsewhere as Citenco charges VND25,000 for treatment there.
They said they often dump on unused land while the streets are cleared during lunch and siesta time in the late morning and early afternoon.
Trinh Minh Trung, chief of construction inspection in District 3, has ordered his men to slap fines on those caught illegally dumping. But he said he didn't have enough staff members to carry out the job.
Meanwhile, Bui Trong Hieu, deputy director of Citenco, said the city had not provided his company with enough money to meet treatment needs. Therefore, he said he had to charge the fees.
To fight the "pandemic", the city government needs to take more serious measures at the grassroots level and Citenco should set up more transportation stations to help residents in need.