Ho Chi Minh City authorities must find a way to ease traffic congestion during the overcrowded peak periods. The city's Chairman Le Hoang Quan declared in an official report to districts governments and departments.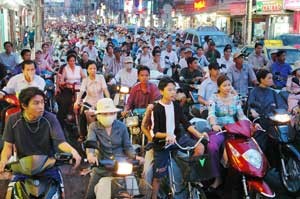 Traffic congestion at a crossroads of HCMC
In the report, the chairman said that district governments must act to reduce the amount of traffic in the city, and therefore hopefully decrease traffic accidents. These procedures are expected to be implemented and effects seen by the end of this year.
Under the guidelines in the report, construction of infrastructure, such as road works and waste water treatment on the city's streets must be finished quickly to return the streets focus back to transportation. Construction sites have been operating on most of the city's large streets for several months and are one of the main contributors to the traffic congestion and have made the issue more serious than in previous times.
The chairman also required completion of a new school and office hours plan. According to the plan, schools will ring bells at different hours; offices will start the working day at different times, every 30 minutes one after another. These changes have the objective to regulate and ease traffic flow by ensuring that public servants, pupils, and parents will not leave home to go to work or school at the same time.
The chairman asked the Department of Transport and Public Works and the Education Department to subsidize school buses and making them accessible, therefore facilitating pupils to go to school by bus, thus easing traffic congestion.
Traffic Police are also required to punish traffic misconduct harshly, so that drivers do not dare violate the traffic laws. The police will set up a camera at every corner to record traffic violations. The Chief of the road traffic police in Ho Chi Minh City, Mr. Pham Van Thinh reported that 3 days after creating harsher punishment for traffic violations, the number of violations slightly decreased.
The Department of Transport and Public Works was also called on to finish its plan of traveling expenses for cars and motorbikes.
To avoid the same problem with long term projects such as new urban areas, these areas must have a very good plan for the transportation system. These projects must also contribute to resolve serious traffic congestion in the city.