Ho Chi Minh City Vice Chairman Nguyen Trung Tin met with relevant city agencies and authorities last week to discuss ways to raise capital for infrastructure improvements in outlying and rural areas, as part of the city's urbanization plan.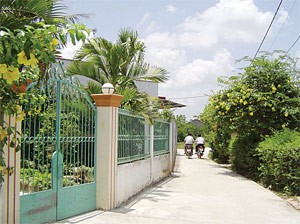 A new road in Cu Chi, the first outlying city district to borrow money for the improvement of infrastructure
The city's rural areas currently have poor levels of infrastructure; one fourth of the bridges are degraded and most of the roads have cracks, potholes and flood when it rains.

Although there is a mass of space in the city's outlying areas, there are not enough schools.

Ten percent of households have no power supply and 78 percent have to collect water from wells; those in Nha Be and Can Gio do not even have access to well water and must buy water from further afield.

An estimated budget for the 2007 to 2010 urbanization project is VND12.7 trillion (US$794 million), 50 percent of which will be set aside for traffic and sewage systems. The project aims to bridge the gap between the standards of living in outlying areas and inner city districts.

Increased investment in town planning and road-building is essential in making travel easier for local inhabitants and for facilitating economic development in line with the city's policy of moving inner-city manufacturers to outlying districts.

However, the city budget is limited and raising funds for the project is currently a burning issue with city authorities.

Some officials suggest assessing the current uses of state-owned land and housing, in outlying districts, in the hope of restructuring and streamlining land use and providing an income from the rental of government land and housing.

According to a report by the Finance Department, 980,000 square meters of government land are available for sale. The city hopes to receive about VND700 billion (US$44.8 million) from the sale and streamlining of state-owned land and housing.

At the meeting, lottery funds were also discussed; all agreed that the money must be used for social welfare projects and the construction of schools and hospitals.

The head of the Planning and Investment Department proposed offering loans to enterprises to stimulate demand.

Dao Thi Huong Lan, Deputy Director of the Finance Department ideas attracted a lot of attention. She suggested that road-widening projects have always benefited residents living in houses situated directly on the roadside, such houses become more valuable once the work is finished.

Therefore, she said, the city should allow investors to take the land on either side of the roads, compensate the homeowners accordingly before rebuilding the roads and selling the land at auction.

By doing so, the government would receive a sum of money from investors that they could re-invest in further road improvements. They could also establish an urban infrastructure system to build rows of terraced houses on either side of new roads.

The city Vice Chairman said that they would consider other ways to increase capital. However, he added that, the most important thing is still the effective use of capital.

He also asked authorities to focus on vocational training programs and creating jobs for farmers.

Every department must assign an official to monitor rural development in the hope of bridging the gap between outlying and inner city areas, he added.