Ho Chi Minh City is targeting to complete all flood prevention projects by 2015, said Do Tan Long, head of the Water Drainage Department under the Steering Committee for the Urban Flood Control Program.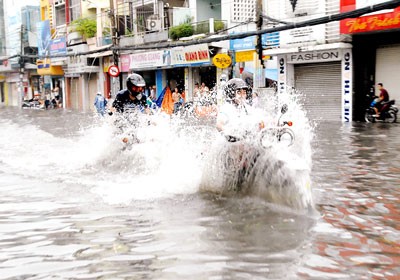 Phan Dinh Phung Street in Phu Nhuan District in HCMC was badly flooded on October 13 (Photo: SGGP)
Of the 31 highly flooded spots in the City at least 21 will be tackled by year end and any other remaining spots will be rectified by 2015.
In 2001, the Government had approved a project to upgrade 6,500 kilometers of sewer pipeline in the City, in an effort to reduce flooding.
Work on 2,100km of the pipeline is already complete, which has greatly helped in easing flooding after heavy rains in streets like Hai Ba Trung in District 1; 3 Thang 2 in District 10; Minh Phung, Le Quang Sung and Cao Van Lau in District 6; Ong Ich Khiem in District 11 and Luy Ban Bich in Tan Phu District.
Besides, the City has also built nine sluice gates to drain off floodwaters from high tides. 
Although several projects have been completed, flooding has   reduced in only some areas because a number of other projects are still underway, Long said.
After all the remaining projects are complete, the canal and sewer system will be connected, which will then synchronize to effectively drain out floodwaters from the City.