Nguyen Huu Tin, Deputy Chairman of the People's Committee of Ho Chi Minh City on Saturday visited road and bridge construction sites, that cause frequent traffic congestion and even fatal accidents, to find ways to resolve traffic issues.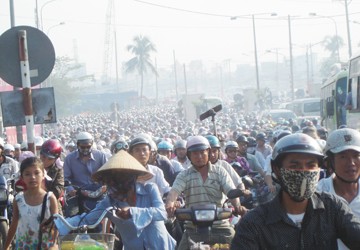 Traffic congestion on Binh Trieu Bridge in HCMC (Photo: Phap Luat)
The delegation checked several roads such as Nguyen Tat Thanh, Nguyen Van Linh, Highway No.1 and No.50, to put in place dividers at strategic places to mark out lanes.
Le Toan, Deputy Director of the Department of Transport in Ho Chi Minh City, said that the department will install dividers along Nguyen Tat Thanh and Nguyen Van Linh Roads very soon, so as to demarcate motorbike lanes from car lanes.
The department also asked the city authorities to reduce vehicular speed limits on Highway No.50, from 50 kilometres per hour to 40 kilometres per hour, because of residential colonies on both sides of the highway, Toan said.
The department has also asked to reduce vehicular speed limits on the Highway No.1 along Binh Chanh District.
The city is also focused on clearing 27 highly vulnerable accident-prone 'black spots' that are regularly faced with traffic jams and accidents.
After the field trip, Deputy Chairman Tin agreed to a proposal by the Department of Transport to reduce vehicular speed limits on the highways and instructed the department to install dividers along the roads. He also asked the department to improve on traffic safety and curb the number of traffic accidents.