Although agriculture contributes to less than 1 percent of HCMC's gross regional domestic product (GRDP), the city has affirmed to continue focusing on developing the field and boosting hi-tech application in production, Minister of Agriculture and Rural Development Nguyen Xuan Cuong said at a recent conference.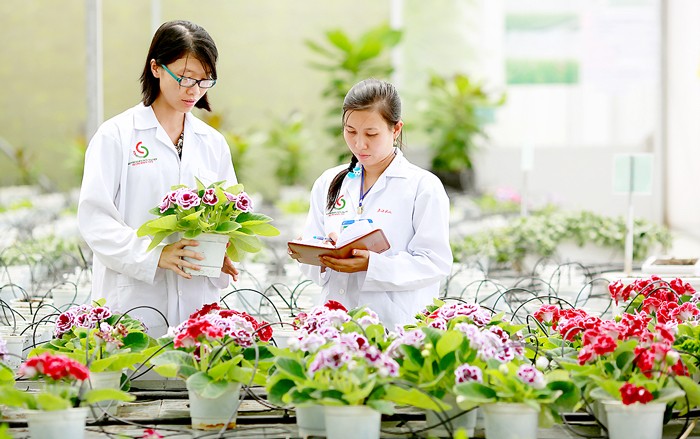 HCMC Biotechnology Center has sucessfully produced bellflower and transferred the planting model to farmers (Photo: SGGP)
Agricultural land has been narrowed to make room for industrialization and urbanization still HCMC has bravely set a target to get the production value of VND450 million ($19,800) a hectare this year.
The city has changed from rice farming into other high value products since 2000 and continued restructuring toward hi-tech and bio technology application into urban agro production for the last two years.
Last year, production value reached VND410 million a hectare, up 9.3 percent over the previous year. It was only VND170 million in 2011.
Many hi-tech production models have been applied bringing higher than before income for farmers. A hectare of vegetables yields VND800 million to VND1 billion a year, orchid VND2 billion, tiger prawn VND800 million and ornamental fish over VND1 billion and a herb of 20 dairy cow brings VND800 million a year.
While the country's agriculture continued meeting with lot of difficulties with the growth rate of 1.2 percent, the city still sustained the growth momentum of 5.8 percent.
Deputy chairman of the city People's Committee Le Thanh Liem has instructed to transfer rice and salt making areas in Can Gio district into other crops with higher value and effectiveness to further production value amid shrinking farming land.
According to him, the city will continue having policies encouraging farmers and businesses to develop hi-tech urban agriculture and implementing agricultural restructuring to target product quality, food safety and hygiene, production efficiency and farmer profit instead of quantity.
So far, the city has built HCMC Hi-Tech Agriculture Park and a dairy cow farm with Israeli technology.
The park's management board reported that in the phase of 2011-2015 it contributed in forming some hi-tech agricultural zones such as orchid planting communes in Cu Chi district; safe vegetable communes in Binh Chanh and Hoc Mon districts with nearly 330 producing models meeting VietGap quality standards with the total area of 145 hectares.
Orchid planting communes in Cu Chi include Tan Thong Hoi, Tan An Hoi, Phuoc Hiep, Trung An, Nhuan Duc and Pham Van Coi. Vegetable production communes comprise Tan Quy Tay, Hung Long, Binh Chanh in Binh Chanh and Quy Duc, Xuan Thoi Thuong, Xuan Thoi Son and Thoi Tam Thon in Cu Chi.
The productivity of these vegetable models is 15-30 percent higher than previous farming methods. The new models have been introduced and transferred to farmers providing them with farming knowledge and skills to improve output and income and reduce loss after harvest. These have contributed in speeding up the progress of the new urban development program in the city.
Recently, the Ministry of Agriculture and Rural Development has recognized four scientific achievements by the center including bellflower and orchid varieties.
Dr. Nguyen Ky Phung, deputy director of the city Department of Science and Technology, said that the direct application ratio of accepted scientific research works into practice reached 35.5 percent in 2011-2015 when labor productivity increased 5.6 percent.
The increasing application of hi-tech and biotechnology is expected to bring more values for the city's agriculture.
This year, HCMC will put into operation broadened hi-tech agro zones in Can Gio, Binh Chanh and Cu Chi, where together with the HCMC Biotechnology Center play major roles in human resource training and achievement transfer to farmers.
Local authorities will continue implementing the agricultural restructuring project in the phase of 2011-2015, applying hi-tech and biotechnologies, issuing agricultural insurance assistance policies, boosting the establishment of new enterprises and cooperatives, creating supply chain connectivity to reduce costs, stabilizing production and ensure food safety.