According to the Ho Chi Minh City Department of Transport, the city is geared to meet the heavy travel demand during the coming Tet Lunar New Year holiday season.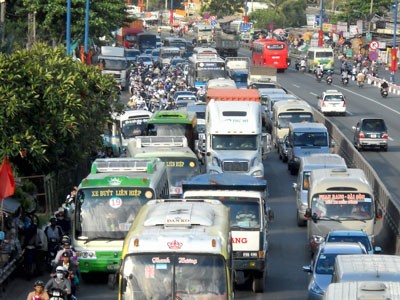 HCM City is geared to meet the heavy travel demand during the coming Tet. (Photo: Sggp)
Mr. Le Trung Tinh, head of the Industrial Transport Management Department said that bus stations are preparing to receive around 1.3-1.4 million passengers each day during the coming Tet Lunar New Year, a 2- 3 time increase as compared to normal days.
The municipal Department of Transport has given its nod to transport businesses to add more buses and will offer concessions on some services at bus stations. Buses running on inter-province routes will be mobilized to enter the city bus stations to pick up passengers.
The HCMC Transport Department will also cooperate with the Transport Management and Operation Centre to decorate and clean streets, and check lighting systems across the city. A team of department representatives will carry out patrols along streets and repair roads that have been inundated and damaged from the recent flooding.
The city government has also prepared for the Spring Flower Festival 2012 to take place at Tao Dan Park in District 1 on January 18-28.
The annual festival will feature around 8,000 exhibits of bonsai trees, ornamental plants, orchids, cacti, apricots and peach blossoms, ornamental birds and fishes, fruit arrangements and rock gardens, contributed by hundreds of local and foreign artisans from various flower clubs.
Highlights of the festival include a couple of giant arapaima fish, weighing about 200kg and a 20m-long wood garden.