Ho Chi Minh City has an adequate and abundant supply of chicken and duck eggs, now that the supply under the price subsidized program has been doubled since January 11, said Nguyen Thi Hong, deputy chairwoman of the City People's Committee.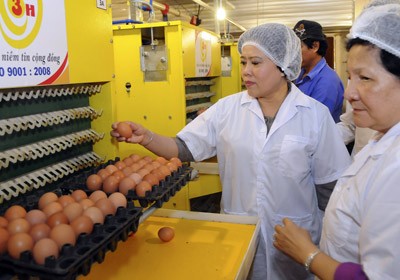 Nguyen Thi Hong, deputy chairwoman of the HCMC People's Committee (L), examines supply of subsidized chicken eggs at Ba Huan Company (Photo: SGGP)
Ms. Hong was speaking in response to a sudden increase in price as well as sale of eggs recently.
She said that the supply of eggs in HCMC was meeting the demand of three million eggs a day. The City will apply measures to stabilize the market and deal with the sudden and unreasonable increase in egg prices by some businesses.
Since the end of December, there was s shortfall in egg supply in the northern region due to prolonged cold and icy weather. As a result, some businesses in HCMC sold their eggs to traders in the northern region, causing shortage in the HCMC market.
Taking advantage of this situation, some foreign invested companies increased egg prices. Besides, residents also feared egg shortage and rushed to stockpile.
At Co.op Mart Supermarket, people lined up to buy subsidized eggs, with many buying to resell at a profit.
Egg prices hiked unreasonably in the market though feed price has not increased in the last two months. According to calculations by authorized organs, businesses are profiting only VND1,600-1,700 per egg. Hence there is no reason for them to raise the price by nearly 30 percent since early January.
Ms. Hong affirmed that from now until Tet Lunar New Year, the City will fix the subsidized price at VND23,500 per pack of ten chicken eggs and VND30,500 per pack of ten duck eggs.
 
Since January 11, HCMC has doubled egg supply to the market. Subsidized egg supply now accounts for one third of the market demand.
HCMC will strengthen propaganda via the media and management boards at markets on the abundant supply of eggs from now until Tet Lunar New Year so that residents can set their minds at ease.
Supermarkets and stores under the City price subsidized program will not sell eggs of businesses that set prices higher than normal.
The market management force will work with distributors to prevent people from buying subsidized goods to resell at a higher price.
The purchase power of eggs at supermarkets and markets is still very high.
Price of chicken egg has fallen by VND1,000 since January 11 to cost VND26,500-28,500 per pack of ten, while duck egg price remains high at VND34,000-35,000 per pack of ten.