By 2025, Ho Chi Minh City will develop the Thu Thiem New Urban Area as a very modern urbanized area which will serve as a financial, commercial and service centre, said Dr. Nguyen Trong Hoa, Head of the Institute of Developmental Studies in an interview with SGGP Newspaper.
Together with the existing City infrastructure, the Thu Thiem New Urban Area will be an important part of the city center and will play a key role in the economy and finance of not just Ho Chi Minh City and Vietnam but also Southeast Asia.
Thu Thiem will also take on the task of a socio-cultural center of the City, as the present center of HCMC has no further room for any more construction. Many cultural institutions will be built in Thu Thiem such as the central square, museums and an Opera House.

An artist's impression of the Thu Thiem 2 Bridge
Furthermore, the Department of Transport in HCMC plans to kick off construction of four main roads in Thu Thiem new urban area in District 2, the City's new financial centre, in June 2013, said Dr. Hoa.
With a total cost of around VND10 trillion, the project will include an arch avenue, a central lake-side road, a Saigon River-side road and an overpass across the southern ecological garden.
According to Trang Bao Son, deputy head of Thu Thiem new urban area management board, the four roads are expected to be completed in 2015, giving the start for the formation of the Thu Thiem new urban area.
To ensure progress of the project, the City People's Committee has assigned the Investment and Construction Board of the Thu Thiem new urban area to work with Vietnam Infrastructure Development and Finance Investment Joint Stock Company (VIDFI) to complete all technical designs and procedures of the project as early as possible.
The area is located in Thu Thiem peninsula, which connects two lands raised from the Saigon River, including An Khanh, Thu Thiem, An Loi Dong, Binh An and Binh Khanh Wards in District 2, and faces the City's existing centre from the Saigon River.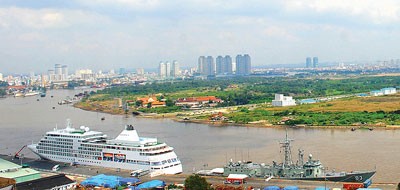 Thu Thiem New Urban Area ready to welcome investors (Photo: Cao Thang)
Work on a new bridge, Thu Thiem 2, will begin in HCMC next year at a cost of about VND2.3 trillion (US$110.3 million) to link District 1 to District 2.
The bridge will be 852.5 meters long and 19.3 meter wide and will have four lanes for vehicles, a 2-meter-long divider for landscaping, and pedestrian lanes on both sides, said the Vietnam Construction and Import-Export Joint Stock Corporation (Vinaconex), the project's investor.
Running from Ton Duc Thang Street in District 1, the bridge will cross the river and end at the Thu Thiem new urban area in District 2.
The project will be implemented through the Build-Transfer (BT) model in 2013 and is expected to be complete by 2015.
City authorities have approved a dragon-shaped design for the bridge, with the head of the 'dragon' located in District 2 and its tail in District 1.

Dr. Nguyen Trong Hoa, added that due to the global economic crisis, and the economic difficulties of Vietnam in general and HCMC in particular, progress in investments has been very slow.
At present, HCMC authorities have boldly spent millions of dollars with much enthusiasm to organize major international competitions and hiring of foreign consultants for Thu Thiem New Urban planning, Hoa said.