Ho Chi Minh City started a festival to welcome the New Year for 2008 at the September 23 Park yesterday.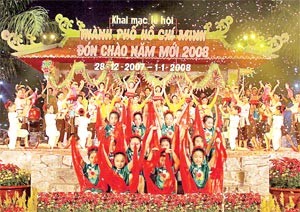 At the opening ceremony of the city's festival to celebrate New Year 2008
The festival with many art performances, book shops and an introduction to culinary culture attracted many visitors.
 
The festival also has an exhibition of the city's economic, cultural and social achievements in 2007, with 280 photos and five boards showing data about the city's great achievements in fields of political security, social safety and order, economic growth, investment, cultural life and modern urban areas.
 
During the festival, the city will hold art performances in outlying and rural areas, industrial and export processing zones.