A ceremony held yesterday honored 97 outstanding young teachers in Ho Chi Minh City for their contributions to education in the city and the country.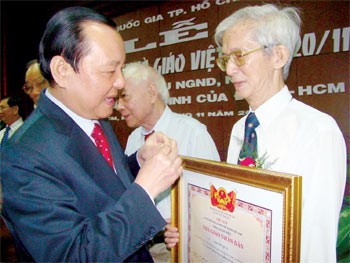 HCM City Party Committee secretary Le Thanh Hai (L) confers the title of "People's Teacher" on Dr. Nguyen Quan, former vice rector of the HCM City University of Technique (Photo: SGGP)
Organized by the city Communist Youth Union at the Youth Cultural House, it was attended by Truong My Hoa, the former vice president of the nation, and city People's Committee deputy chairwoman Nguyen Thi Thu Ha.
A function was held the same day to confer the title of "People's Teacher" on 13 teachers and the "Excellent Teacher" title on 39 others, all from the Vietnam National University - Ho Chi Minh City (VNU-HCM).
City Party Committee secretary Le Thanh Hai addressed the function, saying: "The country's social and economic achievements are partly credited to the unstinting efforts of the educational system. Teachers have a great responsibility and honor in our society. The city government believes in teachers' capability to develop the country's education."
Associate Professor Dr. Phan Thanh Binh, president of VNU-HCM, said: "These teachers have devoted themselves to the development of education. They have made significant contributions to the development of the university in the last decade."
Yesterday also saw a function being held at the City Hall to celebrate the 26th anniversary of Vietnamese Teacher's Day, November 20.
Speaking at the event, Ms. Ha said: "Every teacher here is a bright example of the spirit of responsibility and dedication. They have provided society with many individuals of talent and virtue, meeting the human resources need at a time of global integration."
Sixteen teachers and educational officials were awarded the "Excellent Teacher" title and 19 individual and agencies, the Labor Order.