Ho Chi Minh City held a ceremony Sunday to honor seven residents named the city's Outstanding Young Citizens 2011 at the Youth Cultural House.
The seven names are circus artists and brothers Giang Quoc Co and Giang Quoc Nghiep, police officer Vo Quoc Dat, chess player Le Quang Liem, student Tat Ha My Linh, ninth grader Nguyen Nhat Quang, and Doctor Nguyen Anh Truong.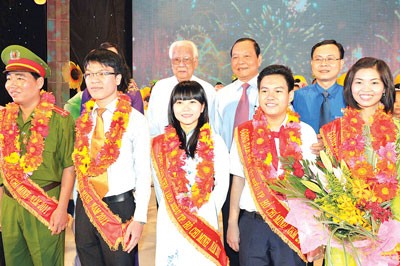 (Front) Five among the seven Outstanding Young Citizens 2011 of Ho Chi Minh City honored at the ceremony (Photo: Viet Dung)
They were honored for their contributions and they represent young city dwellers with a way of living being a good example for the public.
The seven were the finalists among more than 100 candidates nominated by Youth League units, State agencies and media organizations.
Brothers Giang Quoc Co and Giang Quoc Nghiep are circus artists of the HCMC Circus Troupe.
Vo Quoc Dat is a criminal policeman of HCMC Police. Le Quang Liem is an International Grand Master that has achieved various victories. Tat Ha My Linh is a student at the Saigontourist Hospitality College. Nguyen Nhat Quang is a ninth grader at Lac Hong Secondary High School in District 10. Nguyen Anh Truong is a Youth League secretary at Tam Binh Orphanage.
Addressing the ceremony, city Party chief Le Thanh Hai appraised accomplishments and contributions of the city's Outstanding Young Citizens over the past years.
He said they were expected to continue to be good examples for the young generation.
Other leaders and former leaders of the city also attended the ceremony.