The biennial national song and dance festival has just opened at the Dai Dong Theatre in HCMC's district 3 and will remain open until November 18.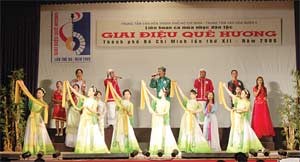 A performance during the festival (Photo: SGGP) 
The 12th "Giai Dieu Que Huong" (Fatherland's Melodies) festival will have 800 amateur artists from 19 teams - 18 district culture centers and the Hoa Sen Trang Club of HCMC Culture and Labor Palace - perform for the public.
 
The festival will feature 53 performances in various themes, including Huong Sac Que Huong (Scent and beauty of fatherland), Ban Tinh Ca Au Lac (Au Lac's love song), Luu Luyen Sac Hoi Que Huong (Attached to the beauty of festivals in the fatherland), Rang Ro Viet Nam (Brilliant Vietnam), Nong Nan Cao Nguyen (Passionate Central Highlands), and Giu Gin Cho Mai Sau (Save the best for the future).
 
The organizers, HCMC Culture Center and District 3 Culture Center, expect the festival to promote national culture and inspire people to preserve and develop it within their own communities.
 
"The festival is a good place for the amateur artists to meet not only each other but also their audience, share experiences and listen to the feedback from the audience. They will then know what need to do to improve. In addition, during the festival, the entertainment companies can find out potential artists to train seriously", one of the organizers said.
 
Besides some modern genres allowed in the contest, the organizers have encouraged contestants to choose some traditional genres including folk song, hò and vè (variants of Vietnamese folk music), ca trù (ancient genre of chamber music featuring female vocalists with origins in northern Vietnam), chầu văn (a traditional folk art which combines trance singing and dancing), quan họ (a folk music style that has groups of female and male singers issuing musical challenges and responses) and hát then (a traditional folk art of Tay and Nung ethnic minorities).
The teams will perform on seven nights: Nov. 3, 4, 5, 10, 11, 12 and 13
The fifteen most impressive performances will be selected to perform on the awarding gala night on November 18 at the Dai Dong Theatre.