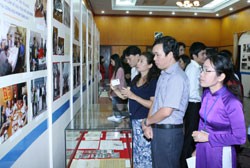 Visitors view photographs and documents in an exhibition at the presidential complex on President Ho Chi Minh's visit to France in 1946 (Photo:VNA)
A postage stamp exhibition titled 'Journey on Uncle Ho's footprints' is being held at the Ho Chi Minh City Youth Culture House from May 12-18, to mark the 122nd birth anniversary of President Ho Chi Minh (May 19).
The exhibition is displaying 15 collections of stamps, including 5,000 postage stamps from the private collection of 10 collectors.
The stamp collections displayed at the exhibition have won prizes at stamp contests at the National Stamp Exhibitions.
This stamp exhibition hopes to attract a number of local people and tourists who wish to view the life and career of the late President Ho Chi Minh.