Participants at a meeting of the Ho Chi Minh City People's Committee on May 26 agreed that despite the city's socioeconomic growth in May and the first five months of the year, many social issues of the city need addressing.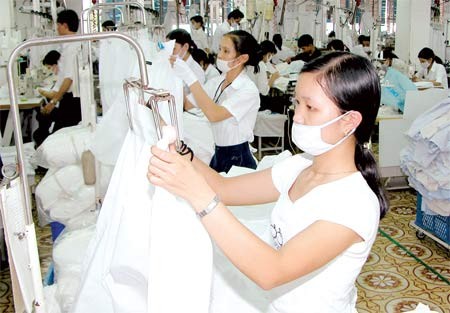 Workers make shirts at Viet Tien Garment Corporation in Ho Chi Minh City (Photo: SGGP)
Thai Van Re, director of the HCMC Department of Planning and Investment, said due to reduced production, industrial production value increased by only 12.4 percent in the first five months of the year while it was 13.8 percent in the first five months of last year.
 
He said the city faced a shortage of skilled workers, most of who have returned to their hometowns to work.
 
Labor shortage and high lending interest rates have hiked cost prices of products, he added.
 
Mr. Re said amongst the four price-stabilized product groups, the health services have seen a price hike.
 
According to participants, though enterprises earned considerable revenue, their profits were still low because they had to pay bank loans at high lending interest rates.
 
Construction companies have faced more difficulties since the city scaled down many construction projects.
 
Le Hoang Quan, the City's Chairman, said the most important task at this time was to maintain production and business activities.
 
Fund shortage has led the city to slow the upgrading of ten bridges on Provincial Road No.9, which is causing concern for traffic commuting.
 
Tran Quang Phuong, director of the HCMC Department of Transport, said that with the rainy season round the corner and so much construction still underway along Nguyen Huu Canh Street, severe flooding can occur on the street and this should be tackled immediately.
 
At the meeting, Chairman Quan agreed to spend VND20 billion on a project to reduce traffic accidents on National Highway No.1A and National Highway No.22.
 
Le Truong Giang, deputy head of the city's Health Department, said the number of children contracting hand-foot-mouth disease has increased rapidly.
 
According to the department's statistics, the city has reported 1,925 hospitalized cases since May 18, a year-on-year rise of 64 percent.
 
The disease has spread rapidly since April, with some weeks seeing an increase of over 300 cases.
 
Mr. Giang said 11 children died of the disease this year, while the fatality number was only one in 2010.
 
He said the department will hold an urgent meeting with 24 districts of the city and relevant agencies to adopt measures to prevent the disease epidemic in the city.
 
Chairman Quan asked the health department to take urgent measures to prevent outbreaks of the hand-foot-mouth disease and dengue fever.