More than 5,000 jobs will be up for grabs for eligible workers at the 7th job fair to be organized at the District 11 Cultural Center on November 2.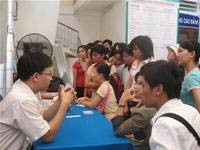 Candidates take part in a direct interview at a job fair in the city (Photo: Nguoi Lao Dong)
The HCMC Employment Agency said yesterday that about 1,000 people will be able to find jobs through direct and online interviews on the day.

There will be open exchanges between representatives of seven enterprises and vocational schools and young people and students of the District 11 on job opportunities, skills needed, self-employment opportunities, loans for vocational education and labor export programs.

The District 11 Cultural Center is located at 179 Binh Thoi Street.