Ho Chi Minh City dumps as much as 6,500 tons of garbage waste in a single day, agreed delegates at a meeting of the City's Department of Natural Resources and Environment with 50 urban waste collection units on Tuesday.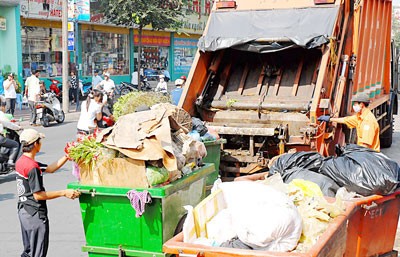 Waste being collected in HCMC (Photo: SGGP)
This increases the volume of buried garbage, reduces effectiveness of waste recycling plants and hinders organizations and individuals from being able to separate different kinds of waste, such as biodegradable or toxic.
Businesses that are in the field of garbage collection and transportation in the city agree that waste should be separated in the city area so as to reduce excessive volumes at dumping sites.
This separation of waste should first be done at trade centers, wholesale markets, industrial and export processing zones and residential areas.