Ever more tourists from non-English speaking countries are coming to Ho Chi Minh City these days but there are too few tour guides to look after these people, and the Vietnamese tourist industry is losing out as a result.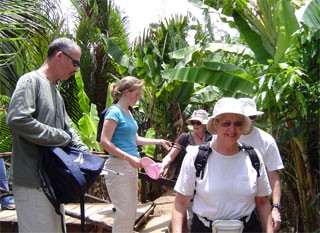 More foreign tourists come to Viet Nam these days but there are too few tour guides to look after them (Photo: Hoang Yen)
To state the obvious, Ho Chi Minh City is the industry's largest market in Viet Nam. Asian tourists have always made up the greatest proportion of the city's visitors, yet the number of tour guides who can communicate in, say, Japanese, Korean or Chinese is still limited.

More and more people from Russia, Germany, Spain and elsewhere in Europe are flocking to the city too, and the same language barrier exists for them.

In all of Ho Chi Minh City, there are only eight Russian-speaking, sixteen Spanish-speaking, ten Thai-speaking and fourteen Korean-speaking tour guides.

Even though hundreds of thousands of young people graduate from university with a foreign language degree every year, and though the German, Korean, Japanese and Thai languages have been taught in the nation's universities for many years, tour guides who can communicate in a foreign language besides English are thin on the ground.

Few university graduates are interested in becoming a tour guide. There's too much travel, the hours are long and a guide must look after all the clients' needs and wants with little if any outside help. For female tour guides the prospect is even less pleasing as many Asian tourists want to spend their time going on 'night tours'.

The Vietnam National Administration of Tourism has recently made it mandatory for a tour guide to have a bachelor's degree in either a foreign language or hospitality studies in order to get an official tour guide permit. In the absence of this qualification, a guide can only get a temporary permit.

Granting a temporary permit is a stopgap to cope with the lack of tour guides who know a foreign language besides English. Most temporary permit holders have picked up a foreign language through working or studying abroad.

Of the 1,344 registered tour guides in Ho Chi Minh City, only 641 are eligible for the official permits.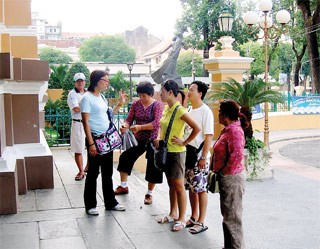 Korean tourists visit the Ho Chi Minh City Post Office in District 1
The shortage of suitable tour guides has resulted in many Koreans coming here to do the work illegally.

Temporary permit holders and illegal guides know little about the travel industry in Viet Nam, or about Vietnamese society, culture and history, so they cannot satisfy the curiosity of inquisitive foreigners who want to learn more about the land they are visiting and feel comfortable during their stay.

Ms. Dong Thi Kim Vui, director of the Ho Chi Minh City Department of Tourism, hopes to fix the problem by employing foreigners as interpreters for Vietnamese tour guides and has petitioned the Vietnam National Administration of Tourism to do just this.

She says the Vietnamese tourism industry should cooperate with the education sector to formulate a strategy for increasing the number of foreign-language speakers to work as tour guides.

One part of this strategy could be to teach German, Spanish, Korean and Japanese in junior high school.