Ho Chi Minh City launched the "Green Enterprise Awards" program on Tuesday to encourage industrial companies to protect the environment.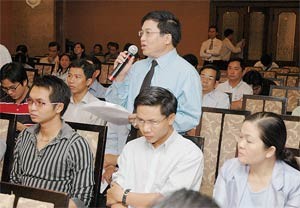 Mr Hoang Van Dieu, General Director of ALTA contributes his opinion to "Green Enterprise Awards". Photo:M.Hai
The program is an initiative of the Ho Chi Minh City People's Committee and is being organized by Sai Gon Giai Phong newspaper and the Department of Natural Resources and Environment in collaboration with the Department of Science and Technology, the Department of Industry, and Hepza, the government agency that oversees the city's export processing zones and industrial parks.
At Tuesday's press conference, Sai Gon Giai Phong Editor-in-chief Duong Trong Dat said the awards were initiated to recognize efforts to protect the environment.
Besides certificates for their environment-friendly technology and production processes, the award winners will have the right to use the "Green Enterprise" logo on their product labels.  
Sai Gon Giai Phong will run features about the award winners. The first awards presentation will be held in January and broadcast live across the nation by Vietnam Television.
Nominations for the awards must be in by the end of November, after which the judges will visit the factories in question.
It will cost an estimated VND800 million (US$50,000) to organize the first batch of awards, so the organizers are looking for financial sponsorship from the business community and international organizations.
The man in charge of the awards, Vice Chairman Nguyen Van Dua of the Ho Chi Minh City People's Committee, stresses that the program is important because environmental pollution has a negative impact on millions of city dwellers, foreign capital inflows and economic growth.
A month before the winners are decided, Sai Gon Giai Phong will publish the names of the candidates to collect feedback from readers. If the public's sentiment is negative, the judges will have a second look.
Another important detail is that an award recipient must pledge not to break the Environment Protection Law in the next three years. Mr. Dua warns that if they do violate the law, the award will be declared invalid and the transgression publicized widely.
The "Green Enterprise" certificates, which will be issued by the Ho Chi Minh City People's Committee this first time, and the logos will be valid for three years only, as the criteria might be changed in subsequent years to adapt to changes in the situation.
Mr. Dua underscores the program's validity by pointing out that many leading industry figures will be involved in determining the award winners, as will the public through its feedback to Sai Gon Giai Phong.
"Therefore, we believe that the judging will be fair in every respect," he says.
Criteria
Compulsory criteria (15 points)
- treating all wastewater according to Vietnamese standards (5 points)
- treatment of dust, exhaust fumes, smells and noise in accordance with Viet Nam's standards (5 points)
- collecting and treating solid waste (5 points)
Criteria for awards (85 points)
a) Technology (55 points): production technology (10 points); waste treatment technology (10 points); using modern technology to protect the environment (10 points); possessing certificates like ISO 9001, ISO14000, TQM, 5S, SA8000, HACCP, GMP (10 points)
b) Input (10 points): giving preference to environment-friendly suppliers 
c) Products (10 points): environment-friendly products and business effectiveness
d) Investing in environmental protection at the place of business and contributing to the local community