A promotion program was launched by the Department of Industry and Trade in HCMC and the People's Committee in Tan Binh District on September 19.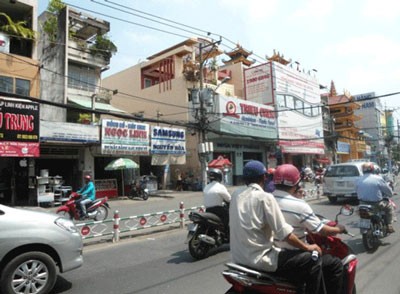 Hoang Van Thu Street where businesses partake in the city's promotion program
The program is in response to Promotion Month 2013 which includes two promotional market fairs and 173 businesses to showcase on five roads in Tan Binh District in Ho Chi Minh City, with discounts on various commodities for customers.

The two market fairs in Tan Binh Exhibition and Convention Center have 103 booths of 62 enterprises of food and beverages, electronics and telecommunications, textile and garments, leather, and many other consumer commodities.

Customers will be given discounts, presents and coupons to join in lucky draws when purchasing commodities on the five roads, namely, Hoang Van Thu, Hoang Viet, Ut Tich, Xuan Dieu and Xuan Hong Streets, over a period of ten days.

On the same day, the Department also launched a market fair at the University of Agriculture in Thu Duc District in HCMC.