In the lead-up to the 14th session of the Ho Chi Minh City People's Council early next month many legislators have voiced concern about the problems faced by the city.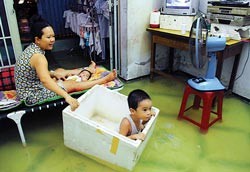 A house flooded by recent heavy rains in district 2, HCM City (Photo: SGGP)
These relate to the use of public funds, the progress of some major projects, economic growth, food hygiene and safety, and others.
In the last few years a lot of money has been spent on public transportation and projects to prevent flooding and traffic jams but not much improvement has been seen, deputy Truong Trong Nghia said.
The city is reportedly set to achieve 11 percent growth this year but the quality of people's life has fallen in some aspects, Mr. Nghia said.
"What is the cause?" he asked. "Inefficient use of resources, squander, or poor social and economic management?"
Deputy Le Nguyen Minh Quang voiced concern over the delay in some major projects.
The director of the Planning and Architecture Department had claimed the urban plan would be completed by the end of 2007 but it remains unfinished yet, Mr. Quang said.
"I need a satisfactory explanation from the director about this," he said.
He also listed some of the works that have been delayed too long, like the Nhieu Loc-Thi Nghe Canal and rebuilding of the HCM City National University.
He also wanted to know what the authorities have done to cope with the problems companies face and the hurdles to attracting ODA and FDI because of the global financial crisis.
Deputy Nguyen Dang Nghia said environmental pollution has got worse in recent times due to toxic substances discharged into the environment by many factories in industrial parks and medical waste dumped by some hospitals.
He also warned about the lack of control over food hygiene and safety, saying that in such a thickly-populated city the issue must not be disregarded.