HCMC party leader Dinh La Thang yesterday proposed Nippon Koei Company to review the progress of Ben Thanh-Suoi Tien metro line project and put forward necessary requirements to relevant agencies to speed up progress and complete the project on schedule by 2020.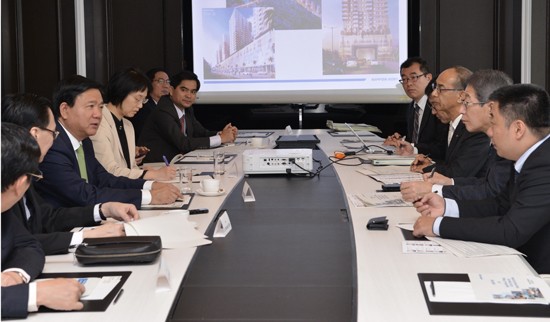 Secretary of the HCMC Party Committee Dinh La Thang works with Nippon Koei in Tokyo on April 9 (Photo: SGGP)
According to Nippon Koei Company who is the consultant and supervisor of the project, the Japanese Ministry of Economics, Trade and Industry has issued a prefeasibility report for the extension of the metro line by 8 kilometers to Dong Nai province and 6 kilometers to Binh Duong.
 
Using Japanese official development assistance (ODA) funds for the project will be promoted in the upcoming time.
The company hoped the city People's Committee to support and work with Dong Nai and Binh Duong to implement the project advantageously.
 
The first metro line project is now meeting with some difficulties affecting its progress, reported the company's representative. However the company will strive to accelerate the progress and committed to improving consultancy quality for under construction projects including Ben Thanh-Suoi Tien.
 
Mr. Thang emphasized the importance of the project and required Nippon Koei to quickly repair problems for the last past, supervise honestly and unbiasedly, limit design changes for many times to prevent from affecting the work's quality and movement.
 
HCMC will create advantageous conditions for contractors to build the route.
 
Nippon Koei should well carry out the first metro line because that will open opportunities for the company to build next projects.
 
At the meeting, standing deputy chairman of the city People's Committee Le Thanh Liem affirmed that Ben Thanh-Suoi Tien metro line plays a significant role to not only the city but also the country.
 
Therefore, construction should not have any careless thing. Consultancy phase is extremely important to materialize that.
 
HCMC Urban Railway Management Board has made efforts to prompt contractors to complete the project by 2020, asked Nippon Koei to change some designs and soon send a report about that.
 
In April, the board will work with leaders of Binh Duong and Dong Nai to discuss the route's lengthening.
 
Nippon Koei is now implementing seven projects in HCMC and promoting other projects such as Bach Dang Harbor Park, above ground road no.1 inner the city from Lang Cha Ca roundabout to Nguyen Huu Canh intersection.
 
On the same day, the HCMC high level delegation led by Mr. Thang left Tokyo for Nagano province to continue their business trip in Japan.

Related articles:
HCMC calls for speeding up Xuyen Tam Canal Upgrade Project
HCMC asks for help from Japan's wastewater treatment technology
JICA willing to cooperate with HCMC in public private partnership
HCMC high level deputation starts ten day visit to Japan