Secretary of the HCMC Party Committee Dinh La Thang required airport, railway and coach stations to maximize mobilization of resources and vehicles to transport passengers as well as possible in the Tet holiday on January 15.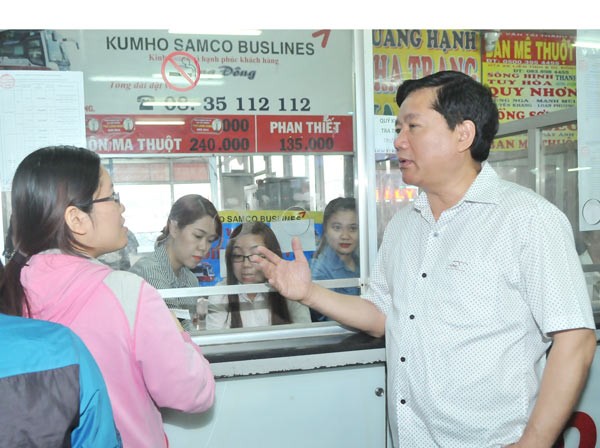 City Party Secretary Dinh La Thang talks to a passenger buying Tet ticket at Mien Tay Coach Station on January 15 (Photo: SGGP)
Mr. Thang made the requirement while he together with deputy chairman of the city People's Committee Le Van Khoa and agencies inspecting transport firms' preparation works to meet surging travel demand in the Tet festival.
Director of Tan Son Nhat International Airport Dinh Tuan Tu reported that airlines are scheduled to increase 1,065 flights in two weeks before and after Tet, up 38 flights a day on average and 7.7 percent over normal.
The airport has supplemented check-in counters, scanners and aviation security force to meet demand and ensure security.
The increasing travel demand is expected to further rise in the upcoming time when airlines buy new aircrafts, Mr. Thang noticed. Therefore, Tan Son Nhat Airport should have an overall solution to upgrade and expand the airport to prevent overloading.
He prompted Tan Son Nhat management to connect and organize traffic, open check-in posts outside and limit taxi cabs at the airport to reduce congestion. Management phases should be improved to be more scientific.
Mr. Thang promoted the airport to work with relevant sides to build water regulation reservoirs and drainage canals to tackle flooding, study construction of a flyover to the airport, speed up transit services to improve traffic condition in the area this year.
 
Mr. Tran Quoc Toan, director of Saigon Transportation Mechanical Company (Samco), manager of Mien Tay (Western) Coach Station, said that the station was scheduled to serve over 130,000 passengers a day in peak time near the Tet.
Coach stations and transport enterprises would work 24/7 to take all passengers home to celebrate the Lunar New Year Festival, said Samco.
Director of Mien Dong (Eastern) Coach Station Nguyen Ngoc Thua reported that peak travel time usually falls in ten days before and ten days after Tet. The station has already supplemented coaches to take passengers to the central region, northern region and the Central Highlands since early the 12th lunar month.
In addition, it has signed contracts with 70 bus companies to prepare for possible overloading of coaches. So far 57 businesses at the stations have sold 114,772 out of 227,526 Tet tickets.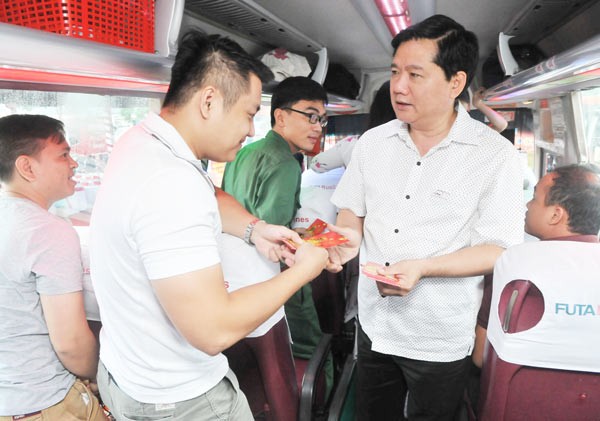 The secretary gives passengers Tet presents on a bus from Mien Tay Coach Station to Can Tho city on January 15 (Photo: SGGP)
The Mien Dong Station proposed the Department of Transport, Police and local authorities to crack down on illegal coaches and stations to ensure traffic order and safety.
The National Committee for Traffic Safety and Directorate for Roads of Vietnam should instruct responsible units to repair flood damaged roads to ensure traffic safety and smooth travel so that coaches can return to the city to pick up other passengers, the station suggested.
Head of Saigon Railway Station Nguyen Van Thanh reported advantageous online ticket sale reducing the number of passengers streaming to the station to buy Tet tickets.
 
Appreciating the airport and stations' preparations for Tet, Mr. Thang proposed Mien Dong and Mien Tay Coach Stations to ensure sufficient vehicles to take all passengers home for Tet.
They should carefully conduct technical checks of vehicles before departing from stations, not carry flammable goods, control ticket price to prevent it from rocketing and prepare provisional buses to serve passengers when necessary.
He urged Samco to work with relevant sides to remove Mien Dong and Mien Tay stations from the center of the city as per schedule. After removing, the two old stations will be used for public transport instead of building commerce centers.
In long term, Saigon Railway Station should relocate from the center of the city or build track above the ground to reduce traffic jam.
The railway industry must reform operation methods, create new transport combined with tourist products, improve service quality and reduce travel time from HCMC to Nha Trang and other destinations to compete with other means of transport when low cost airlines and road transport further develop.