Ho Chi Minh City's state offices related to housing, traffic, construction and investment should simplify their administrative procedures to create a more favorable environment for foreign investors.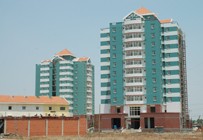 A luxury apartment building in Ho Chi Minh City (Photo: D.M)

The request was made by the Chairman of the HCMC People's Committee, Le Hoang Quan, at a meeting Monday reviewing the city's socio-economic development in the second quarter of 2007.

He also called for transparency in land use, hiring practices and zoning, as well as revocation of fallow or poorly managed land.

The committee has promised that by the middle of this year, housing ownership certificates will be issued to more than 4,000 citizens who were relocated to allow for the construction of public works.

The city will also focus on auditing four particular sectors including public works construction, land management, the budget and public property.