Leaders of the Ho Chi Minh City Party Committee along with HCMC People's Committee organized a meeting to celebrate the 82nd anniversary of the Revolutionary Day of Saigon– Gia Dinh on January 27.
City Party Secretary Le Thanh Hai, former Prime Minister Phan Van Khai, People's Committee Chairman Le Hoang Quan and Nguyen Thi Quyet Tam, chairwoman of the city People's Council attended the special gathering which took place in Cu Chi District of HCMC.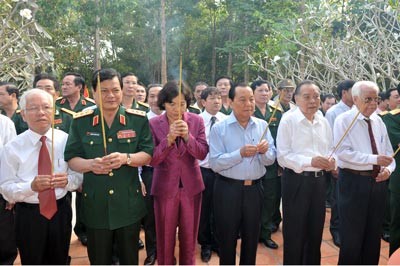 City Party Secretary Le Thanh Hai ( 3rd, L) and other leaders burnt incense to celebrate the 82nd anniversary of the Revolutionary Day of Saigon– Gia Dinh
On behalf of City Party leaders, Chairman Le Hoang Quan praised the former revolutionary cadres, heroic Vietnamese mothers, invalids and veterans of the city for fulfilling the task of national liberation against the puppet regime supported by US imperialists in the past.
The city Chairman also expressed gratitude to the previous generation and outstanding people and organizations for their significant contribution to the homeland's defense and development.
Mr. Quan highly appreciated the contributions and sacrifices made by the Ho Chi Minh City revolutionaries during war time and peace time in building the city.

He believed that people in today's HCMC will inherit and further develop the precious Saigon- Gia Dinh revolutionary traditions of overcoming hardships and fulfilling their assigned political tasks.
Reporting on the status of the tasks set for 2011, Comrade Quan stressed that Vietnam overcame challenges posed by the world economic crisis and recent natural calamities.
Former Prime Minister Phan Van Khai also delivered a speech acknowledging the efforts of the people and authorities of the city to sustain an economic growth rate higher than the national average, by applying the party's socio-economic policies.
He stressed that HCMC must play an important role in helping the country reach its socio-economic targets for 2012 by implementing the resolutions passed at the fourth plenum of the Party Central Committee.
He asked all members of the current leadership of the City Party to do their best to fulfill the tasks set for 2012, so as to achieve national industrialization and modernization.